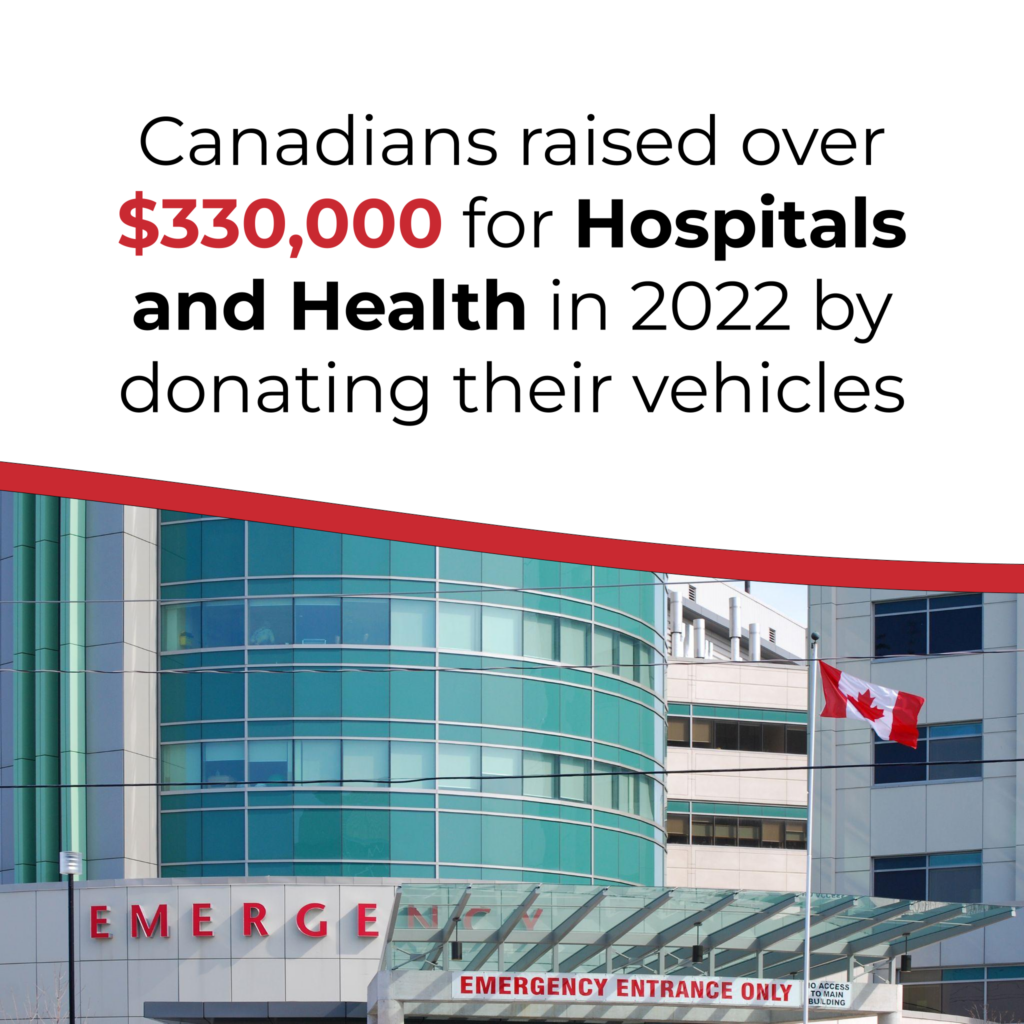 Your Canadian hospital foundation is taking car donations. Follow on Facebook and Instagram for this week's posts. See how your vehicle donation dollars add up!
Donate a vehicle for your hospital foundation
2021 brought in some sturdy gifts for children's hospitals, in particular. In fact, we even had a sailboat donation that brought in over $5,000.00 for the BC Children's Hospital!
An '05 Audi landed The Montreal Children's Hospital a gift of over $2,000.00. A Honda Pilot that we thought might be recycle-ready sold for over $2,700.00 for the Stollery! Furthermore, Jim Pattison's CHF, a Saskatchewan charity, was the pick of donors across all Western provinces.
Donating to your local hospital in this way is easy. A form takes less than 10 minutes to fill out. We can also take your information over the phone during business hours.
We are heart-and-soul a Canadian company. Moreover, you can choose any Canadian charity to accept your gift.
Donate a Car Canada's does all of the leg work and accounting for your hospital. Our cheerful agents will either recycle or re-sell your vehicle. Then, your charity will receive the net proceeds of the sale!
How much really goes to my local foundation?
Not only that, your hospital charity of choice does not pay for this giving option. When you donate a car, all of the work is done for your foundation. They simply wait for the eTransfer to arrive at the end of each month!
Every car, truck, van, SUV, and motorcycle is reviewed on its own merits. There are fees involved on the processing end, of course. Our tow guys need to put gas in the tow truck tank. They also need to keep their shops heated. We do need to keep our own home offices humming, too. We've been a work from home company since we opened up over 10 years ago (long before it became a COVID necessity). This has always been a cost-saver. This family-owned co. knows how to stretch pennies. Charities receive every dollar possible from every donation!
What are my hospital foundation choices?
We are able to serve any Canadian charitable health/hospital foundation. Here are some of the charities to pick from:
Alberta Children's Hospital
BC Children's Hospital
Children's Hospital Foundation of Manitoba
Jim Pattison Children's Hospital
The Montreal Children's Hospital
The Stollery Children's Hospital
Children's Health Foundation
Belleville General Hospital
Brockville and District Hospital Foundation
Dartmouth General Hospital
Delta Hospital and Community Health Foundation
Georgetown Hospital Foundation
Glenrose Rehabilitation Hospital
Grand River Hospital Foundation
Humber River Hospital
Joseph Brant Hospital
Lakeshore General Hospital
Langley Memorial Hospital
Lennox & Addington County General Hospital
Markham Stouffville Hospital
Michael Garron Hospital
Montfort Hospital
Oakville Hospital Foundation-Trafalgar Memorial
Queen Elizabeth Hospital
Sturgeon Community Hospital
The Montreal General Hospital
The Ottawa Hospital
Trenton Memorial Hospital
University Hospital Foundation
Victoria Hospitals Foundation
West Nipissing General Hospital
Caring made easy
Visit any of the above-listed charities and find the Ways to Donate option on their sites. Giving where you care is possible in so many creative ways. If giving an unused or unwanted car, truck, SUV, van, or motorcycle is your way, we're here to help!
'Need more information? We welcome your call. In fact, we have real people answering calls between 9:00 – 5:00 MST. Reach out to 1-877-250-4904. Our online form is simple, too. If you're ready to jump on in, just click the red button below and you'll be on your way.
We're here to serve you and your local hospital. We look forward to hearing from you!