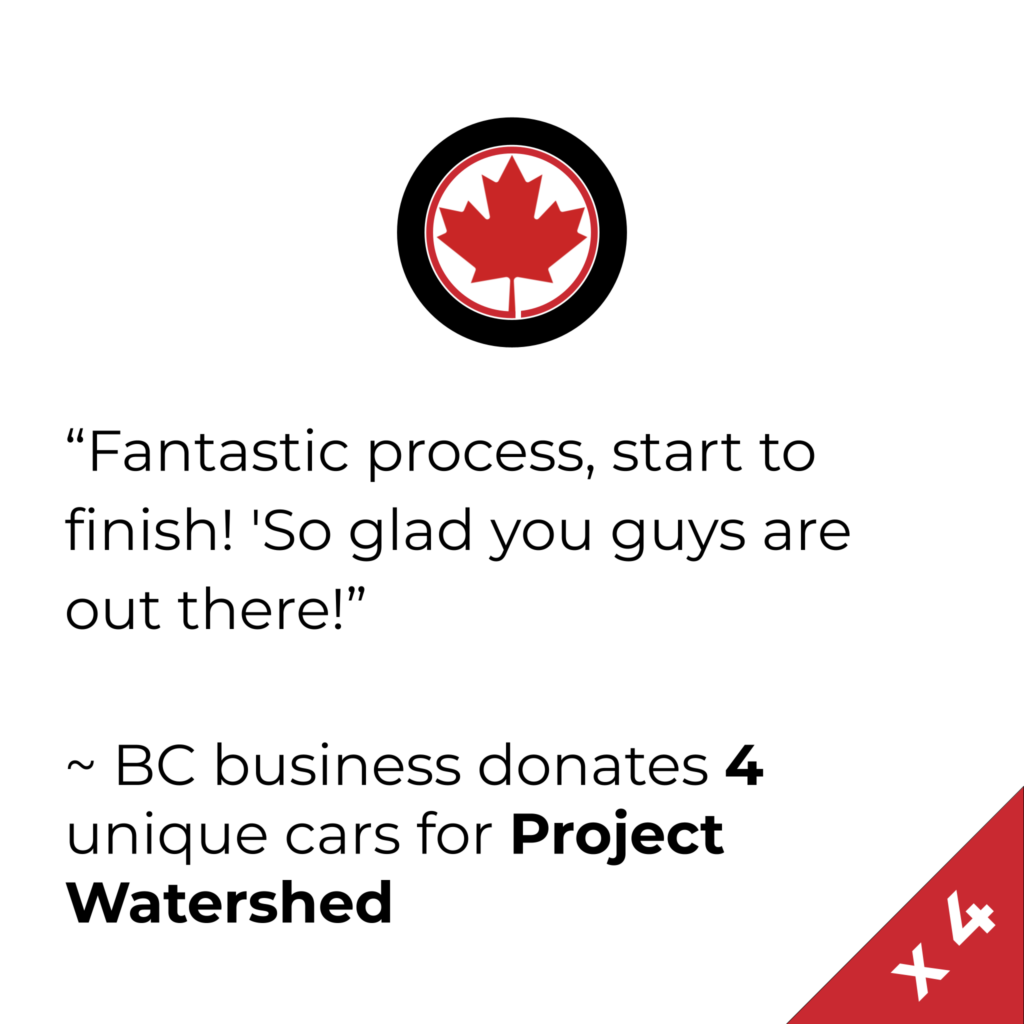 Watershed care? How do car donation and tending our environment go together? One Vancouver Island company gets their feet wet in a big way!
Watershed care and a tech company?
When My Tech Guys (an Alpha company) needed to make a fleet adjustment they knew they wanted to do something extraordinary with their unique cars.
They had three S-Cargo units and one Alto to work with (I mean…how fabulous are those cars?). The company wished to extend the legacy of zip and pizzazz that their "fleet of oddball vehicles packed to the brim with tech tools" had provided their crews.
They matched a little curiosity with some creative giving vibes. Our Donate a Car Canada online form popped into view, and here we are! They went right ahead and donated all four cars! The business is thousands of dollars in for the charity they care about.
My Tech Guys – the best geeks on the job
Talking with Jordan (MTG's resident "Hobbit Geek") was a delight. This is a company that takes service, sales, efficiency, and skill seriously. Everything else? Well, mischief is afoot! Give them a Google to see what their team is all about:
"My Tech Guys Inc. prides itself on having excellent technicians and administrative staff that are not only good at getting the job done, but are passionate and give the customer a positive experience."
Looking for the services they provide? Find them on Facebook or Instagram! They have the computer products you need. And service? They will get it done for you — at home, at the office, or on-site at the store. As the company adapts to a new merge they are excited to grow together as a team, and with their customer base, in the coming year.
Comox Valley Watershed Project Society
Your car, truck, van, SUV, or motorcycle donation goes to any Canadian charity you wish. We will name a few of our receiving charities in just a minute (you may be surprised by how many charities focus on Canadian watershed concerns). My Tech Guys selected the Comox Valley Watershed Project Society as their charity of choice:
The CVWPS mission is to "unpave paradise." They wish "to promote community stewardship of Comox Valley Watersheds through education, information and action."
While the output of Project Watershed's work will be the protection and restoration of local watersheds and associated sensitive habitats, the "process" by which they carry out their objective is of prime importance. Through involving fellow citizens in useful work, they hope to foster an enduring relationship between citizens and their watersheds.
Your regional watershed charity
You can donate your unused/unwanted vehicle for your heartwork, too! Here are a few of Canada's related charities:
Blue Mountain Watershed Trust Foundation
Comox Valley Project Watershed Society
Environmental Defence Canada
Lake Winnipeg Foundation
TLC The Land Conservancy of British Columbia
Trout Unlimited Canada
Watersheds Canada
Your charity not on the list? No problem! Just name the cause you love and we'll be sure your gift is disbursed to them!
My Tech Guys with a final word
Donate a Car Canada is here to serve with joyful efficiency. Our tow and selling agents are committed to seeing the highest donation outcomes possible, too! Ready to donate your car, truck, van, SUV, or motorcycle? Just click the big red button below.
As for My Tech Guys and their robust generosity toward Project Watershed? Well, thanks to them, the charity has close to $4,000.00 to put toward earth care. Our contact at MTG notes, "This was a very smooth and easy process! The online form was simple — especially for someone with little vehicle experience. I knew that I was dealing with professionals who would handle the vehicles well."