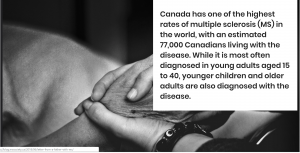 The MS Society of Canada works to ensure that no one faces MS alone. In communities across Canada, their volunteers and staff provide information, support, educational events, and other resources for people with MS and their families. 
MS Society of Canada poised to support
The MS Society of Canada understands your recent diagnosis. They know what you and your loved ones are faced with, and they can help!
The MS Society of Canada provides support and services to people who are:
Living with a diagnosis of MS or an MS allied disease
Waiting for a diagnosis with respect to MS or an MS allied disease
Close to a person with MS or an MS allied disease, such as family and friends
Caregivers to a person with MS or an allied MS disease
Healthcare professionals, employers, institutions and students
A lot of hope, a pile of research, and some inspiration
If you find yourself tackling the reality of Multiple Sclerosis for the first time, do visit the MS Society website. It is filled with practical information, reasoned perspective, and hope-filled stories. Their blog facilitates well-rounded thought on so much of what we face in this disease.
Particularly informative are their Research News, Events, and Library pages where you can do a deeper dive into the current science on this disease, as well as where we can expect more research in the years ahead.
Donate a Car Canada is with the MS Society of Canada for the long haul
DACC has been working alongside this charity for almost a decade in our joint efforts to raise funds for awareness, support, and research. For a heart-warmer of a story from back in 2014, check out our own, "Our Agents Have Heart" blog post and learn about how a wheelchair donation helped in more than one way! We also talked about them in 2016 when our 96 year old donor, Cecilia, donated her '89 Grand Marquis. Cecilia was a delight to work alongside in her generous effort.
If you would like to create your own MS Society donation story, consider donating your car through our program today!