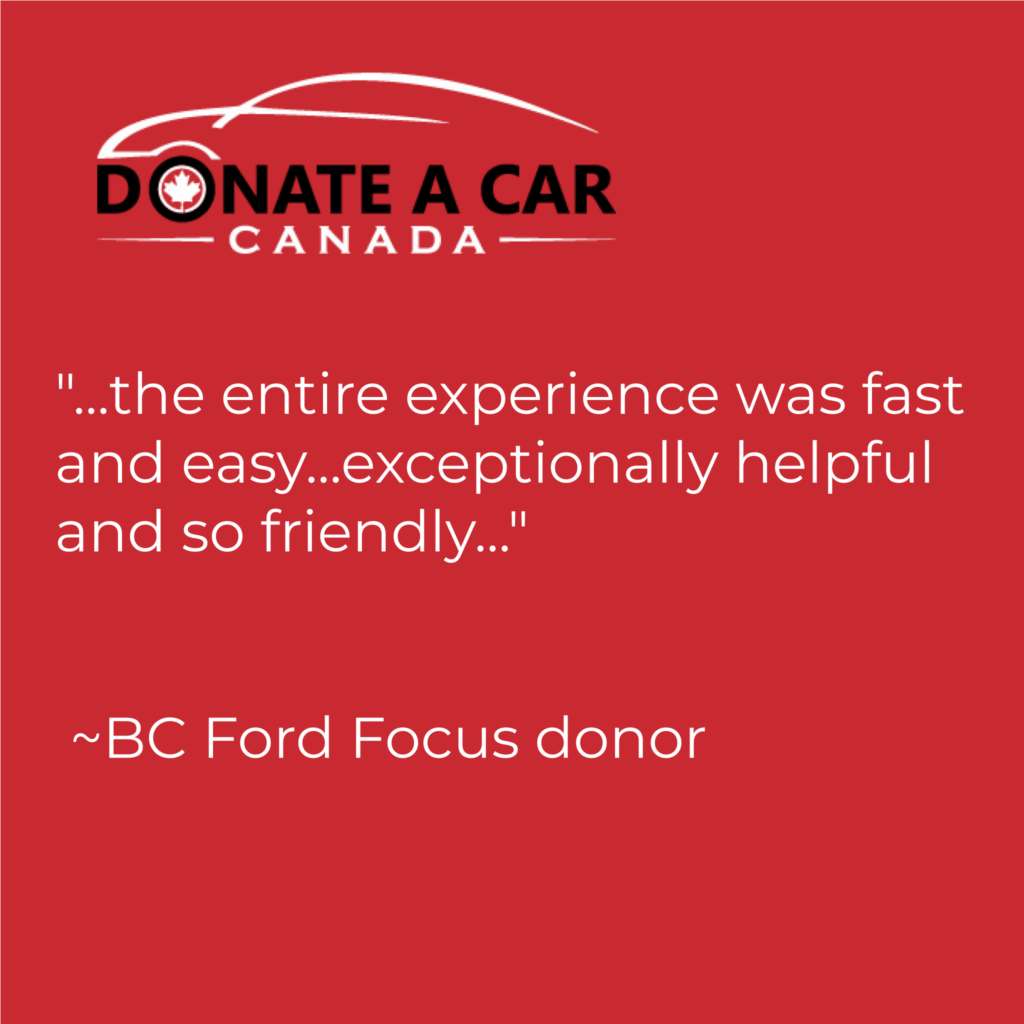 Ford Focus donors? We've had a few! Learn how your Focus can impact the Canadian charity of your choosing.
Once upon a time…
…there was an Ontario Ford Focus owner who knew it was time to let their little car go. The trusty, rusty old thing was stranding them on the road. What better way to extend a legacy than by donating to her charity of choice?
To their happy surprise, with just few clicks of a button, the Kawartha Wildlife Centre was set to benefit from the car's end of life process.
The important middle bit
Hundreds of Ford Focus donors give on behalf of Canadian charities! Often the cars are recycle-ready. Recycle vehicle outcomes add up cumulatively for our charities. This means thousands of donations dollars annually.
We are also able to re-sell donated cars for larger donations. A Focus that's running, in good condition, with moderate mileage could bring your charity a $500.00 gift — or more! Whatever the condition, we tend to each gift individually. Moreover, our regional recycle and re-sale supports give careful guidance about their buyer base. These companies know best-process in your area!
Our free tow is standard, prompt, and friendly. Once we have the Ford picked-up it's just a matter of time and math. Next, your charity is likely to receive their gift within two months of donation. Then, a tax receipt to the donor follows within a month of that. Missing the receipt? We have a simple follow-up process. You will always get that receipt in hand!
Happily ever after
Our Ford Focus donor tells their own story,
"I would like to let you know that I was very impressed by the entire donation process at Donate a Car Canada. Staff were friendly and email responses were detailed and prompt, with clear instructions and an expected timeline. Pickup itself was problem-free, occurring on the very next day. The tow agent was courteous and knowledgeable, and had the paperwork ready, of which there was not much, keeping things really simple.
I recommend Donate a Car Canada to anyone thinking about disposing of their old vehicle to aid a cause close to their hearts. Our chosen charity has already received the funds and we have been notified that a tax receipt will be in the mail soon. The entire experience could not have been any better. Thank you Donate a Car Canada!"
The moral of the story
Our heartfelt gratitude to our Ford Focus donor because you're the reason we do what we do. Generously doing as we are able — each in their own way — is at the heart of Donate a Car Canada.
Maybe you have a car of your own to donate? On the other hand, you may need to get connect with a human voice, first? We can help! Call in to 1-800-250-4904. A few minutes on the phone (an average call will take less than 10 minutes of your time — even if you're going ahead with the donation!) will give lots of direction. Or, if you know this is the choice for you, click on the button below. Our online form is self-explanatory and will get things rolling along in minutes.