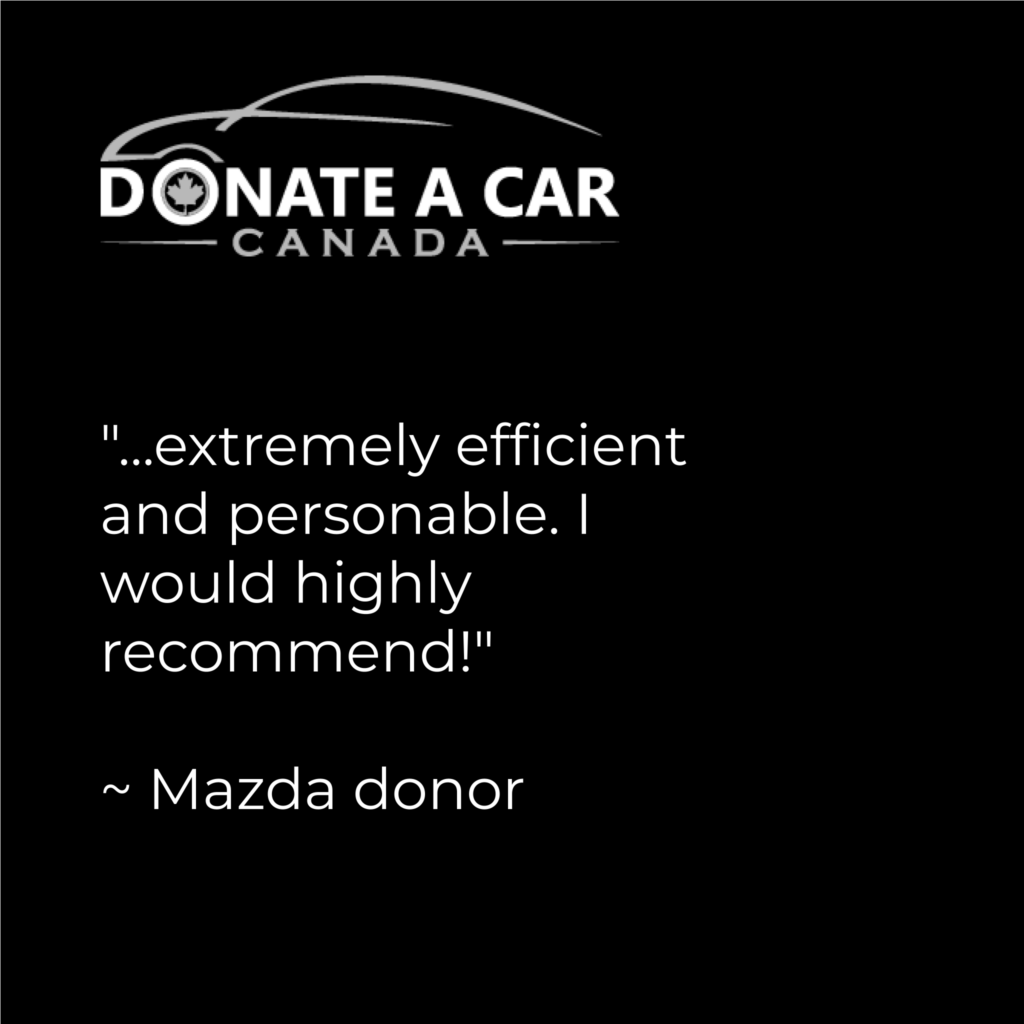 You've found a go-to for Mazda donors! You won't believe the Good they're doing for their chosen charities!
Mazda donors go bonkers big
DAC: Good afternoon! Donate a Car Canada — How can I help?
Caller: Yeah…so…I'd like to donate my Mazda? How do I go about this?
And so it begins. One little phone call and you are on your way to your free tow! Your charity of choice? Well, they're on their way to cash in hand for the heartwork they do — at no cost to them!
At the time of this writing, we've just processed one donor's extraordinary six (6!) vehicle donation. Two of those cars? You guessed it: Mazdas. His charity of choice? The Alberta Cancer Foundation was the recipient of all six gifts!
Earlier in September, a 2012 Mazda 5 donation earned The Canadian Warplane Heritage Museum a donation of $2022.00!
Last month, a 2002 Mazda MPV donor gifted The Alex Community Health Centre $568.69.
Why should I donate my Mazda?
Mazda donations come in all shapes and sizes. This year we've seen 3's, 5's, Proteges, Tributes, and MPVs. The list goes on. 'Ever heard of a Mazda Bongo Friendee? I hadn't either. A donor gifted one on behalf of CancerCare Manitoba back in December 2020. 'Worth a little Google search, that one is!
The Mazda's number one donation value enemy in Canada: rust.
Keeping drivers safe means that these chariots get rusted right out from underneath us.
If your Mazda is in rough shape it can still earn valuable charity dollars!
In great shape, it will earn more for the cause you love. We have re-sale agents coast to coast. Whenever we can, we keep cars out of the scrap yards by re-selling them for a higher charity returns!
If a vehicle cannot be re-sold, our agents will recycle the it. Donations for recycle-ready cars, vans, trucks, and SUVs vary from province to province. Each agent determines what they are able to pay for a vehicle based on curb weight, year/make/model/mileage, and the current metal market.
How can I donate my Mazda?
Donating your Mazda is quick and easy! Our charity choice sets us apart in this industry: we are set up to serve any Canadian charity! Your car, your cause! Our online form takes less than 10 minutes to fill out (be ready with the year/make/model/VIN and it'll be a breeze). We gladly provide phone support (1-877-250-4904). It takes less than 15 minutes to do the form with us on the phone.
Not quite ready to donate? Follow us on Facebook, Instagram, or Twitter to get an overall feel for how we care for each other and our charities here. This is a community you want to be part of!