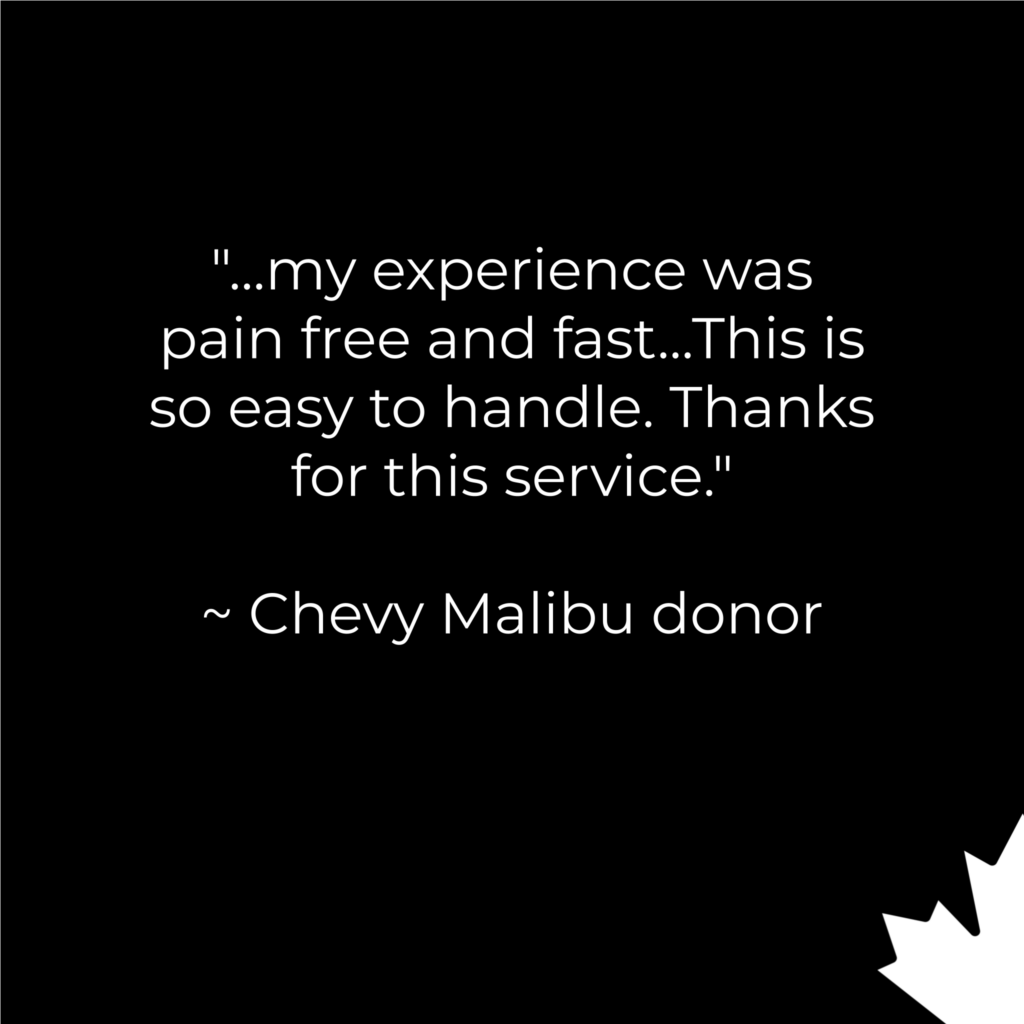 Do you have a Chevy donation on your mind? Did you know you can donate to any charity in Canada? It's so easy…and so free!
Oh, the difference a Chevy donation can make!
Who is on the block for Chevy donations as I write this up? The Tom Baker Cancer Centre, Diabetes Canada, Canadian Parks and Wilderness Society (CPAWS). Wait! There are more — so many more. Our Place Society, Souls Harbour Rescue Mission, and Covenant House Toronto have cars waiting for disbursal, too!
And these are just seven of our current Chevy donors and only a handful of the charities that they will help. This is the beautiful giving impact of Canadian donors! And it is the heartwork of Donate a Car Canada.
One of the everyday joys of working at Donate a Car Canada is the scope of the charities we serve. There is a charity for every cause you can imagine! 'Love donkeys? There's a charity for that. Are you all about hand bells? We ring it in for that cause, too. Community, cancer, kids, and critters: your car donation can go to any charity you love!
How much can your Chevy earn for your cause?
Every donated car (Chevrolet, or other) is assessed, as-is, case-by-case. We and our charities have been at this for over a decade. We roll with current markets: when scrap metal is valued strongly, it's a big win for charity!
Have you noticed the strength of the re-sale market for cars right now? It is a Goodness for your charity. When we recycle a car, truck, van, or SUV the donation outcome varies. This is most strongly affected by your location. In many provinces we are currently seeing donation outcomes for around $300.00 – $500.00 on scrap cars!
However, not all donated vehicles are ready for recycling. Whenever we can, we assign your donated car to re-sale. This happens through auction and re-sale agents across the country. They put donated vehicles up for sale as-is, to the highest bidder. 'Highest bid takes the car. Your charity? They receive the net proceeds.
How easy is this 3 step process?
Donating your vehicle is really just so easy! Fill in our online form (you're one click away). Wait for a call from your supporting tow agent (the tow is always free!). Watch for your tax receipt.
We take care of every detail along the way. You will receive emails outlining important information so that you have a robust paper trail for your donation, should you wish it.
You can choose any charity in Canada! Your charity of choice will never be charged any fees. There is no extra work for them. Their role in all of this? To keep doing the caring, building, researching, nurturing work that is their mission. And then to accept the monetary-gift outcome of your donated car, of course. We are here to serve them by serving you!
Ready to roll your unused or unwanted vehicle in the direction for the cause you love? You're a few minutes away from joining this week's Chevy donors in doing so much good!
You are also invited to contact and follow us on Facebook, Instagram, or Twitter! From there, you'll be able to keep up to date on our program as well as see posts that showcase our amazing donors and charities across the country!