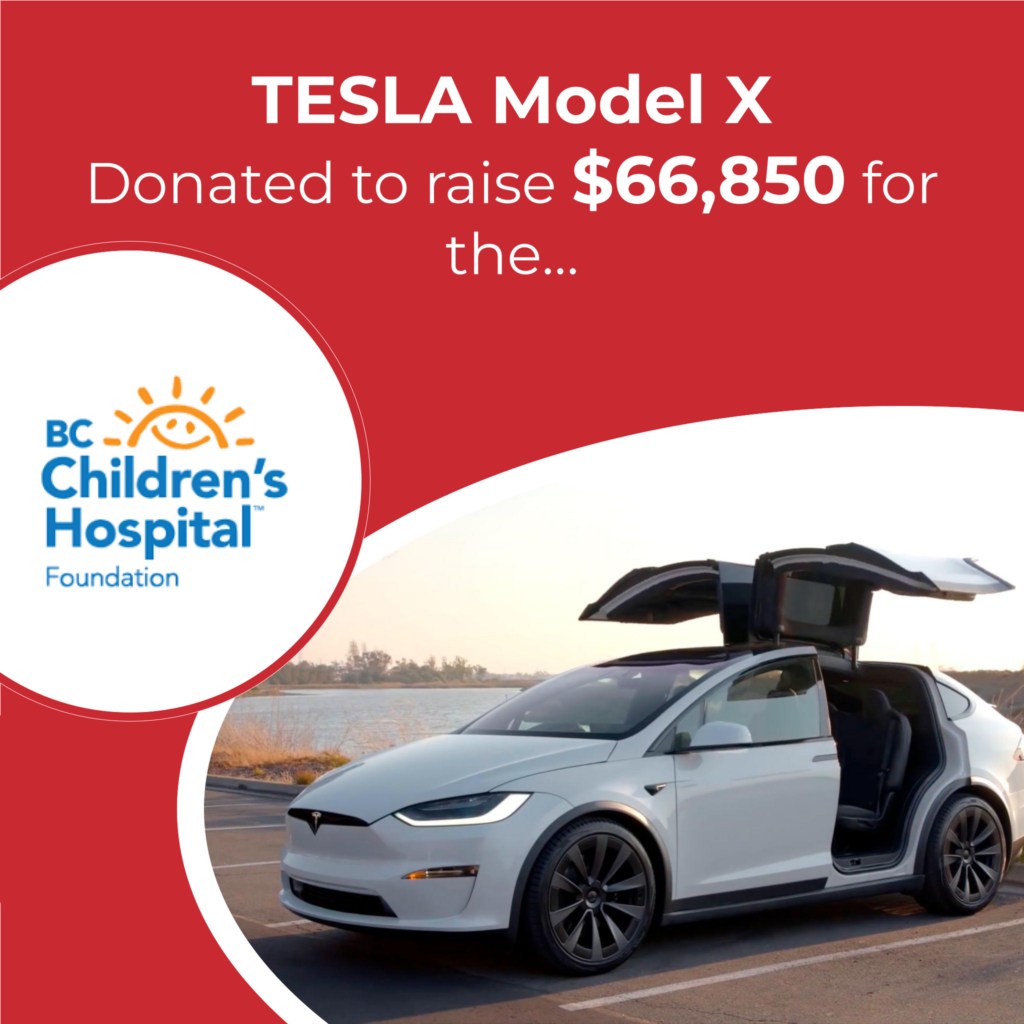 It isn't every day that a Tesla whirrs to our donation-ready attention! To say that we were electrified at the thought is an understatement. This generous donor went from curious to committed in one phone call. And oh, what a difference they have made!
One Tesla Model X, one wish to help, and a charity of choice
It's safe to say that our call staffer was not prepared for the jaw-dropping query coming their way. I mean, we never know what to expect when a prospective donor calls in. It may be a query about a trusty ol' Honda, or a motorcycle that's been parked for two years. "There's a family of mice living in the engine compartment of my rusted out Dodge — can I still donate?" is not outside of the realm of possibility!
But a call in about a Tesla? That is something none of our little crew here at Donate a Car Canada expected on a toasty afternoon late in August!
You can bet we didn't take that call lightly. Every car, truck, van, SUV, and motorcycle donation is special. Each donated vehicle means needed support for the donor's chosen charity. And some, like this Model X, need us to be alert, attentive, and on point!
Our donor support person took the call and was careful to answer every question. They provided detailed guidance regarding our process. Next, of course, they got curious about who was to receive the donation proceeds!
How does a Tesla Model X translate into charity dollars?
Every donated vehicle is considered for re-sale first. We have clear (and long-learned) parameters for this decision. Is the car drivable? Does it have any collision damage? Rust? Are there actually mice living in the engine compartment?
If a unit comes to us in running condition with modest mileage we want to ensure it finds a new owner! Our agents across Canada know their stuff. Auctions and re-sale agents alike will promote and pitch our donated vehicles to regional buyers. They know their buyer bases well.
Donated vehicles are sold as-is to the highest bidder. In the case of this fabulous Model X? Buyers saw the value as soon as it rolled across the floor. The proof is in the bids and the final dollar outcome for the charity!
Wheels on the ground for children's hospitals
Any registered charity in Canada is able to receive your vehicle donation. Your local children's hospital foundation is absolutely included in that care! For our summertime Tesla donor the choice was clear: he designated his gift to the BC Children's Hospital Foundation. There, "Small is Mighty!" Thanks to this generation donation, more children, staff, and families will be supported as the hospital "helps little fight big."
Your car will make a difference, too! Do you have a car sitting unused in the driveway? It can be running, or a scrapper. If it has some life left in it, we will do our utmost to re-sell it on behalf of yourself (that tax receipt sure does come in handy!) and the cause you love!
We are a click or a call away! Hit the big red button below to go to our donation form. This will take you less than 10 minutes to fill out. Once we have it on our side we will immediately get things rolling for your free tow.
Or, call in to 1-877-250-4904. We are delighted to assist — in person! You will connect with a live donor support staff who can answer any curiosities you may still have. They can also complete your donation form for you.
We appreciate the extraordinary gift of a unique donation like the Tesla Model X! Our charities may not see anything quite like that for awhile. And we value and tend every vehicle donation that comes through with the same respect. Whether donating a $500.00 rusty-trusty ol' car, or a shiny gem, we are here to serve you and your charity today!