Our kids are heading back to school! Some have been away from the classroom for over a year. Other children and teachers have been hanging out in strangely-altered spaces. Masks. No masks. Distanced…and not. How are you and your kiddos doing as you head into a new school year?
There's a buzz in the air! It's Back to School Time!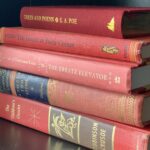 I'm writing from a unique vantage point. My desk overlooks a busy small town street in Alberta, Canada. I've been watching the leaves turn and the skies dance as Autumn settles in. Early (It feels so early for Fall to be nipping at our heels!) The cool, smoke-free air is welcome and I'm getting that familiar squiggle in my tummy: it's a new school year!
Today, the local elementary school is doing a staggered orientation. Girls and boys are scurrying down the hill, parents close at their heels, to meet their teachers. There are babes-in-arms, and moms juggling tiny hands clenching theirs. 'So many dogs trundling along beside, oblivious to book learning, but so excited about their humans and the smells-along-the-way.
There is relief in the air (The kids are going back to school!). And there is uncertainty, too. We still don't know what protocols really need to be in place to keep kids, teachers, and families healthy. We're reaching for something, "normal." Familiar. Safe. Uninhibited.
We're finding our way together. 'So many bumps along the way as we all learn how to hold differing views while continuing to be kind.
Our charities are adapting, leading, serving
Donate a Car Canada is honored to serve almost 1,000 Canadian charities. This is a diverse roster! Many of our receiving charities hold children and families as their top priority. Education. Services. Supports. Safety. Mental health resources.
If you are considering donating a car, truck, or van this autumn, take a look at some of the charities that would welcome your donation dollars:
Alma Children's Education Foundation: play-based and project-based education programs utilizing local indigenous knowledge and language.
Brown Bagging for Calgary's Kids: make and deliver free healthy lunches for students who would otherwise go hungry.
Kids Help Phone: free, confidential and expert mental health support in English & French, 24/7/365.
Learning Disabilities Association of Manitoba: programming, support and advocacy for individuals impacted by learning disabilities and ADHD.
The Canadian Safe School Network: reduce youth violence and make our schools and communities safer.
The Legacy Children's Foundation: Legacy's "Gift of Music" programs mirror programs are assisting youth to complete school and refrain from criminal behaviour.
Phoenix Education Foundation: provide unique learning opportunities for families so that each young person may develop into a life-long learner and an active, responsible global citizen.
Variety – The Children's Charity of BC: steps in where health care ends, providing direct help to children with special needs in BC. For over 50 years they have ensured that children have the support to reach their potential and thrive.
How you can help during the Back to School months
The charities noted here are just a few of Donate a Car's partners.
Choose the charity you love and visit their webpage. Check out their social media (Face Book, Instagram, Twitter). There are so many ways to give — even if you don't have dollars to spare! Donate time, ideas, or resources.
If you have an unused or unwanted vehicle, we're the team for you!
Our donation form takes 10 minutes to fill in.
The tow (or pick-up by hiker service) is free.
You'll receive a tax receipt for the net proceeds from the re-sale or recycling of your car, truck, or van.
And your kids' charity will receive your donation dollars!
Ready to make a difference this school year?