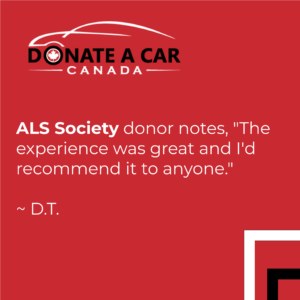 ALS Society charities receive car, truck, van, SUV, and motorcycle donations. From Halifax to Victoria, Canadians are impacted by ALS. Not surprisingly, their response is to give…big!
The ALS Society and awareness
We are so excited to be actively working on many vehicle donations that will go directly toward donors' ALS-focused charities-of-choice!
Regional chapters of the society are set to receive recycle-ready Mazda, Toyota, Ford, and Pontiac donations of anywhere from $200.00 – $525.00. We have some accounting pending on an auctioned Dodge mini van that will bring over $1000.00 for the BC chapter. And a trusty 2007 Honda Accord is up on the block for sale later this month. Ontario will be the beneficiary of that gift!
Follow the charity's socials. Get involved. Stay informed. And discover how you can advance life-saving research!
What is ALS?
"ALS, or amyotrophic lateral sclerosis, is a disease that gradually paralyzes the body. It leaves people without the ability to move, talk, swallow and eventually breathe. 80% of people die within two to five years of being diagnosed with ALS. There is no effective treatment or cure of the disease. However, ALS research has advanced to a point that effective treatments are now a matter of 'when' not 'if.' Research discovery is limited only by the amount of funding available to pursue it."
More funding contributes to ongoing research. Eventually, improved treatments and a cure are the outcome. This is the goal of giving to this cause.
ALS Societies fund raise on a regional basis. This provides services and supports to people/families living with ALS. Furthermore, it contributes to the funding of the ALS Canada Research Program. The CRP funds research grants and fosters collaboration among Canadian researchers. ALS Societies advocate federally, provincially and locally on behalf of people and families living with ALS. This ensures better government support and access within the healthcare system.
Car donations rev their engines for charity
When you donate a car, van, SUV, or truck, you can gift any Canadian charity! There are thousands of causes, and so many charities helping in specialized ways. Donors respond by giving in unique ways, too!
Be sure to visit your regional ALS charity to learn how you can best support their work.
"Whatever your reason for caring about ALS as a cause, you are joining a passionate group…" People living with ALS today benefit from services and support thanks to your involvement. Research investment today means effective treatments tomorrow.
How do I donate my car? Is it free?
The how-to: So easy! Complete a donation form. This will take a few minutes. Await a call from your assigned agent and have the vehicle picked up. Then, just watch for the tax receipt to arrive in your inbox.
Happily, there are no fees charged to your charity of choice. Ever! CanadaHelps (our partnering service) efficiently takes care of getting your tax receipt to you.
Your car, truck, van, or SUV will be either recycled or re-sold for the charity. The tow is free — every time!
Once the pick-up and processing are complete, we receive payment for your car. We then forward the net proceeds to your charity. Your receipt will be out to you within just a couple of weeks of final accounting getting wrapped up.
Questions during the process? No problem! We're easy to get on the phone and by email. Moreover, you will have information at your fingertips at all times. This is all about your donation, your choice!
Ready to give your own four wheels to charity in this way? We are ready to help!