MADD (Mothers Against Drunk Driving) Canada's mission is to stop impaired driving. They support victims of this violent crime.
Continue reading "MADD | No alcohol. No drugs. No victims." →
Mother's Day is just around the corner (May 11th if you weren't 100% sure).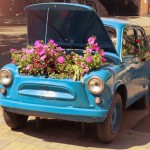 What do you do to honour yours, if you're able? It can really be a challenge. How do we make it a meaningful celebration without completely supporting the extensive commercialism that surrounds it?
Continue reading "Mother's Day" →