Mother's Day is just around the corner (May 11th if you weren't 100% sure).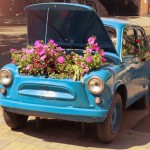 What do you do to honour yours, if you're able? It can really be a challenge. How do we make it a meaningful celebration without completely supporting the extensive commercialism that surrounds it?
One of my favourite traditions with my Mom is going to K-Days (Capital X or whatever else you want to call it) in Edmonton. We've done it for 21 years now, with the exception of maybe one or two when I was having babies. We enjoy a leisurely lunch while we watch the thoroughbred races at Northlands Park, spending the whole afternoon laughing and enjoying each other's company. She bets, I post them for her, we have our little routines. Then we wander through the exhibits, buy fudge and mini donuts, then stay at a hotel because we both come from other places. They are memories I will treasure as long as I live.
What does going to the Exhibition have to do with Mother's Day? Well, those memories contribute to the embodiment of who my Mom is, and when it comes to celebrating her, those moments mean something. When I think of her, there is no thing I can do, nor words to fully express my gratitude for all she represents to me. When Mother's Day comes around, I fall so short in acknowledging her but then, maybe demonstrating my love and appreciation is something I should do more of all year through and not just leave it for one day out of the entire year! This year she's going to be in Cow Town with me (a rare treat), and we get to enjoy an Elvis impersonation dinner theatre. Can't wait! After all, Elvis was always her first love!! 🙂
I read an article this week that took me down memory lane and it offered a great idea for making Mom's day special. One dad bought a journal and has his little girl write/draw a card in it every year instead of buying one. How sweet is that? I like that dad! Thoughtful, all I'd need to draw a tear or two! Isn't that a great idea?
There are so many creative things we can do without spending a ton of money. Breakfast in bed – the old standby. A hand-made coupon book filled with 'gifts' of time, chores done, good attitudes, no sibling fights for a day… Flowers of course, family. Surprises.
All of us working at Donate A Car Canada are moms. We all have lots of stuff. I think I can safely speak for all of us when I say that we don't need more stuff. We want more meaning. If you really wanted to do something meaningful for Mom, you could ask what her favourite charity is and make a donation on her behalf. Maybe it's MADD, maybe it's Canadian Breast Cancer Foundation, maybe it's Inn from the Cold. Take a look through our hundreds of Canadian charities and you'll find an organization I'm sure, who could use the love and generosity of a family honouring their Mom, whether it's a monetary gift, a vehicle donated through our program, or even volunteering.
Whatever you choose to do to make Mother's Day memorable, know that even the little things mean a lot to us Moms!