Another 'Mercedes donor helps local food bank with a $2,000.00 donation! That's two BMW donors raising thousands of donation dollars in just a few months.
How do cash donations compare to food donations at your local 'bank? Is one method of giving more efficient than the other?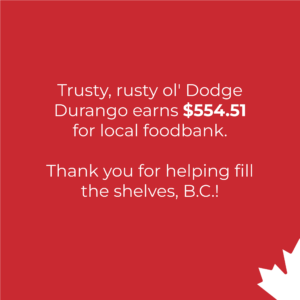 I want to help…what now?
With an unusual Christmas season on the horizon, you may be wondering about how to support your local food bank. We are right with you: What is the best method of supporting our hungry neighbors?
The simple answer: the best method is the one that fits your budget and your style of giving.
In 2017, Tania Kohut offered some insight into this in her article, "Cans or Cash, How to best help your local foodbank." In it she notes that there are advantages to both kinds of giving. While monetary gifts in good hands can ensure fresh goods, the canned and non-perishables we supply at the local grocery store fill needs, too.
Ms. Kohut goes on to say that dollars and gift cards are more popular now than in the past. Food bank giving in this form does allow volunteers to purchase with precision. What is missing from the shelf? What is most needed? Gift cards and cash accommodate these needs.
On the other hand, the need for staples never goes away. If we are able, purchasing an extra quantity of an item that we're already buying for ourselves is a help. 'Drop an extra can or two into the food bank bin at the grocery store!
If vehicle donation is an option
…then look no further! Donate a Car Canada works alongside 15 unique food bank programs. Simply click on our Charities link and type "food bank" into the search field. A vehicle donation here will ensure a monetary gift to your chosen charity. Just this week one of our donated vehicles sold for a donation outcome of over $2,000.00 for a local food bank. This is a timely contribution as needs mount across the country.
Your donated vehicle may be recycle-ready and may not hit the $1,000.00+ mark, but every gift counts. $30.00 – $300.00 can fill a shelf with fresh food when in the hands of a capable shopper.
If your area food bank is not listed on our charities page, reach out. Through your vehicle donation it may be possible to invite them to join our program. If so, they will be listed as a giving option for donors across Canada, all year long!
Ready to make a difference in your own way? We are, too! One loaf of bread, one mindful consideration, and one vehicle donation at a time. Here's to a season where no Canadian goes hungry.