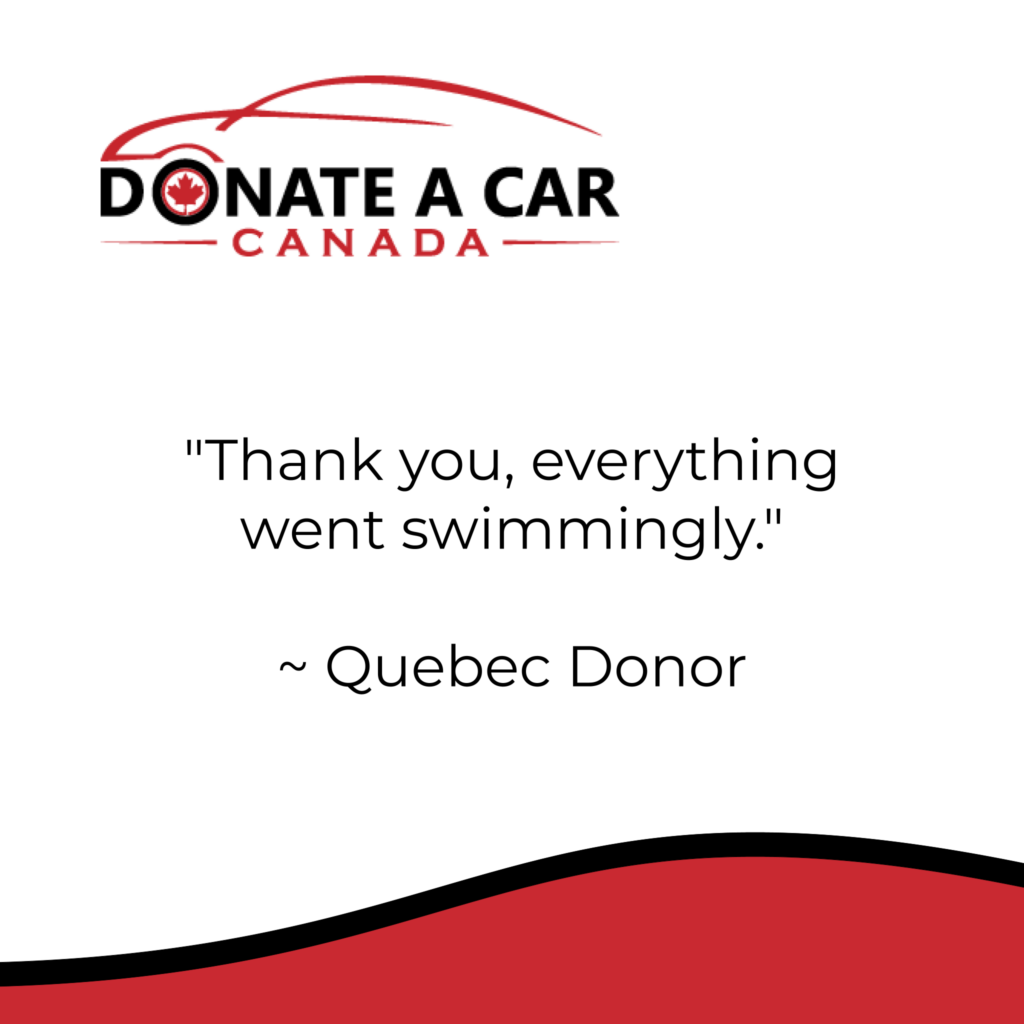 Ready to donate a car in Quebec? We have heaps of charities to gift in the province! Take 5 minutes to fill out the form and we will make the rest happen for you!
How do I donate a car in Quebec?
You have come to the right place if you are ready to donate a car in Quebec. Donate a Car Canada has been serving charities in Quebec since 2005.
You would think by now we would have bi-lingual process in place for our Quebec donors. Thank you for your gracious understanding with that missing service. It is not for an absence of the wish, and it's certainly not because we haven't tried. It is, in a nutshell, because our efforts to get that done have been stumped by cost.
Thank you for going ahead with your donation despite that! Your charity needs you!
Speaking of which, your charity of choice (You read that right: you can choose ANY charity in Canada!) will never pay a penny for our care. Your own steps-to-donate? Well, they could not be easier:
Click or call (1-877-250-4904)
Fill in the information form (this is where you'll pick your charity, too)
Take a call from the towing agent and hand over the vehicle
Leave the rest to us!
But how do I choose my charity?
When you fill in your vehicle information form you will see our drop-down list of charities. It is a long list!
If you would like to explore charity options before you get started, our charities page can help. Another option? Spend some time on the CanadaHelps website. Their list of Canadian charities is vast — and we can serve them all!
A quick-glance at your local Quebec causes
C.A.R.E Centre d'activites recreatives et educatives
Chabad Universite de Montreal
Equiterre
G.R.I.S. – Montreal
Giant Steps Foundation Montreal
Le Havre / Our Harbour
Le Nichoir
On Rock Community Services
Quebec Veterans Foundation
Ronald McDonald House Montreal
Santropol Roulant
SPCA – Monteregie
SPCA West / SPCA Ouest
Sun Youth Organization
Teresa Dellar Palliative Care Residence
The Montreal Children's Hospital Foundation
The Montreal General Hospital Foundation
West Island Association for the Intellectually Handicapped (WIAIH)
Is it really worth it to donate a car in Quebec?
Quebec car, truck, SUV, van, and motorcycle donors raise thousands of dollars for their causes every year. Your four-wheeled auction car or scrapper will make a difference!
We may recycle your car: this results in a flat-rate donation determined by what our agent will pay for the vehicle. This can earn your charity hundreds of dollars.
Whenever we can, we have our agents re-sell donated vehicles. This ensures that the charity can receive a gift of thousands of dollars if the car has that kind of value.
Whatever your cause, we are here to serve.
Whatever your vehicle, we will do all we can to assist. Scrap cars, junk cars, running-like-a-wonder cars — donate a car in Quebec and make a difference for the cause you love today!