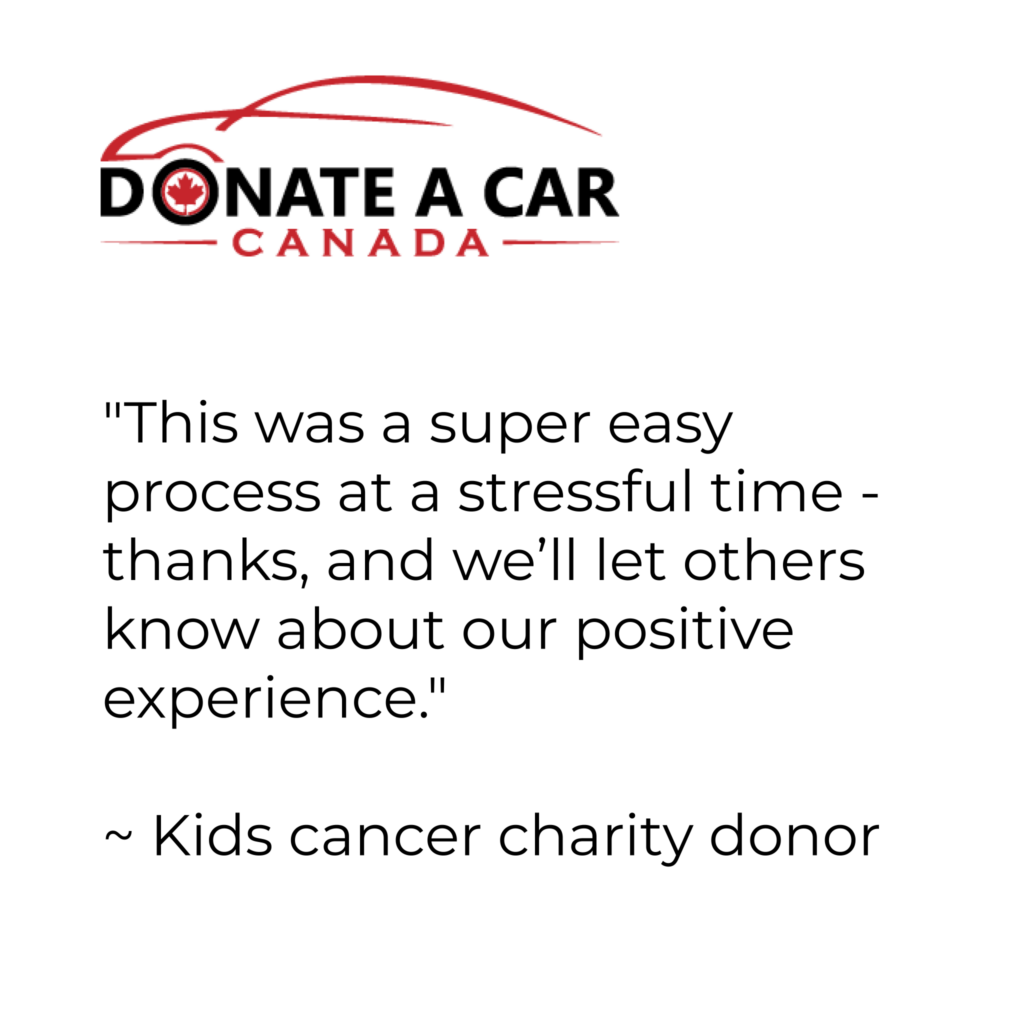 September is childhood cancer awareness month. Your car spreads hope!
Childhood Cancer Awareness Month
This September you can make a difference for Canadian kids! Donate your car, truck, van, or SUV for childhood Cancer!
Pediatric cancers are researched and treated by many Canadian charities. Other organizations are all about supporting the patient and their loved ones. Where does your own passion lie? Whatever your heart cause, there's a charity for that!
In just a minute we'll offer you a list of many of the Cancer charities we work alongside. First, take a minute with Childhood Cancer Canada:
Some of the charities you can help today
Curious about giving to this big big cause? You can, of course, gift any Canadian charity, and here are some to keep in mind:
Believe in the Gold
Camp Quality Canada
Candlelighters Childhood Cancer Support Programs
Candlelighters Simcoe
Childcan, the Childhood Cancer Research Association
Childhood Cancer Canada Foundation
Gaby Davis Foundation
Kids Cancer Care Foundation
Kids with Cancer Society of Northern Alberta
OPACC Ontario Parents Advocating for Children with Cancer
After Breast Cancer
Alberta Cancer Foundation (Tom Baker Cancer Centre, Cross Cancer Institute)
Bladder Cancer Canada
Breast Cancer Action Ottawa
Canadian Cancer Society
CancerCare Manitoba
Cancer Assistance Program (CAP)
HopeSpring Cancer Support Centre
Kidney Cancer Canada
Leukemia and Lymphoma Society
Melanoma Network of Canada
Northern Cancer Foundation
Ottawa Regional Cancer Foundation
Ovarian Cancer Canada
Prevent Cancer Now-Hills of Erin Cancer Prevention Foundation
Princess Margaret Cancer Foundation
Prostate Cancer Foundation BC
Prostate Cancer Fight Foundation
Risky Genes Society Not tagged
Thyroid Cancer Canada
West Island Cancer Wellness Centre
Wellspring Calgary
How to donate your car for childhood cancer
Car, truck, SUV, van, and motorcycle donors raise thousands of dollars for kids' causes every year. Your four-wheeled auction car or scrapper will make a difference!
We may recycle your car: this results in a flat-rate donation determined by what our agent will pay for the vehicle. This can earn your charity hundreds of dollars.
Whenever we can, we have our agents re-sell donated vehicles. This ensures that the charity can receive a gift of thousands of dollars if the car has that kind of value.
Whatever your cause, we are here to serve.
Whatever your vehicle, we will do all we can to assist. Scrap cars, junk cars, running-like-a-dream cars — donate a car for kids' cancer and make a difference for the cause you love today!