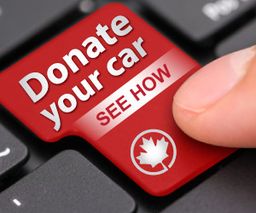 "I'm just calling to get more information about your program — are you a scam?" The short answer is, "No," and we're glad you asked! Car donation scams, like all sorts of other online peculiarities, are out there.
A bit about Donate a Car Canada
Donate a Car Canada is an Alberta-based business that has been in operation for over a decade. We work on behalf of any charity in Canada — all across the country. That's right! We serve in every province! Our role is to help you turn your donation-ready car, truck, van, SUV, or motorcycle into a monetary gift for your charity of choice.
We do this by assigning the vehicle to our cooperating agents for your free tow service. We work with recyclers, re-sellers, and auction house/re-sale agents. The vehicle is sold as-is to the highest bidder, or as scrap metal/parts.
If your interested, you can check us out at the Better Business Bureau. Many of our receiving charities will welcome a call to reassure of our long-standing care and integrity, too!
Car donation scams: how can I tell?
Big promises are a big red flag! A good thing to look out for in vetting a program's legitimacy is the dollar value they're offering: does it reflect the market? 
The metal market goes up and down — a lot! The weight of the metal in a compact car is different from a truck, or a van. A vehicle donation program should be paid out based on that value. Parts also add value, for some kinds of vehicles. By the time the scrap yard working with you drains the fluids, takes care of the tires, strips the saleable parts, and crushes the car, they may be out of pocket.
You can also ask yourself:
How long has the program been around? 
Can I find online reviews (good and bad)? 
Is the program open about how fees are applied?
Can I talk to a real person to get answers about my concerns? How is their customer service?
If you can comfortably answer these questions, you may find yourself in very good hands!
What do I do first?
Canada is home to very few reputable vehicle donation programs, Donate a Car Canada being one of them. A quick phone call to the agency promising to process your car, truck, or van for donation is a safe first step! If they're legitimate they will be able to provide clear answers about how they arrive at the numbers they are offering. Furthermore, you might want to actually visit the charity website that you wish to donate to: the option to donate a vehicle to them should be discoverable on their actual website.
Your phone calls and email queries are welcome here! Our experienced staff are in daily contact with agents from coast to coast. These folks know the industry well and can typically spot car donation scams a mile away. They also want to see your donation dollars maxed. Working on behalf of the charities our neighbors across Canada love? That's ultimately what this is about. 
'Got questions about our program, or our charities? Interested in going ahead with a donation? Call in to 1-877-250-4904, or click the big red button below…