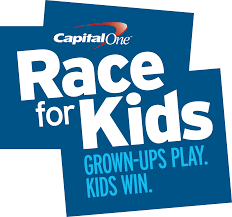 On Saturday, June 4, 2016 Boys & Girls Club of Durham is inviting you and your team of four to participate in the 5th Annual Capital One"Race for Kids™.
Join them in supporting a national campaign to give all kids the opportunity for a bright future. Capital One "Race for Kids™ offers many ways to get involved. Your involvement will make a difference in the lives of boys and girls in our community.
The starting point of this year's race will begin at the Oshawa Midtown Mall. Following the event there will be a post-race celebration with music, food and beverages, and prizes for the top teams.

Join Capital One "Race for Kids™ and show your commitment to supporting your community and Boys and Girls Club of Durham. It's a fun and exciting adventure that will get the blood pumping and the whole team smiling.
This a great opportunity to get your existing team, family or department at work engaged in a community event and give back to your Boys and Girls Club of Durham. Team building activities are a great way to reduce stress and motivate your group.
Prizes:
First Place Team Finisher: $1000
Top Fundraiser: WestJet Voucher
Top Fundraising Team: $1000
2nd Place Team Finisher: gift basket
Best Dressed Team: gift basket
Last Place: should have stayed in bed award
See more here!