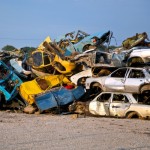 In 2011 we passed the 1 billion mark for cars on the planet. That's a lot of:
metal
rubber
glass
fabric
emissions
storage
jobs

creation/production
oil
gas
repairs

progress
memories
recycling
The pendulum for so many years swung towards consumerism. Create, build, consume, without a lot of forward thought to the repercussions of such progress. Vehicles have paved the way (pun intended) for much of the technology and forward thinking we have today. When the industrial revolution hit in the mid 1800's, no one could have ever predicted the outcome.
While we all enjoy the benefits and luxuries afforded us by this revolution, we've also recognized the responsibility that comes with it to ensure proper care and awareness of our environment.
One thing we know for sure – there are lots of vehicles in Canada needing to be retired (think about that – 1 billion vehicles on the planet!), which translates into being repurposed or recycled. It is important to us at Donate A Car Canada to be mindful of the process.
It's taken several years for the vehicle recycling industry to transition into a more environmentally friendly focus, but it has come a long way to ensuring proper disposal and usage of materials when a vehicle becomes their responsibility. It is an expensive and time consuming process to remove and dispose of fluids properly, crush and pallet the metal and ship it somewhere to be used.
When a vehicle comes into our program, part of our process is to determine whether it is salable at auction or if we should assign it to a recycler. When looking for agents in various parts of the country to provide service for us, we try to secure environmentally conscientious guys first. It's important to us that, when you're ready to retire your ride, you have choices that work for you.
We've joined forces with so many amazing, dedicated and supportive towing agents, recyclers and auction houses and we are so very grateful for the part they play in the process of getting your donation from your yard to the dollars we send to your charities of choice!
Top image courtesy of adamr at FreeDigitalPhotos.net