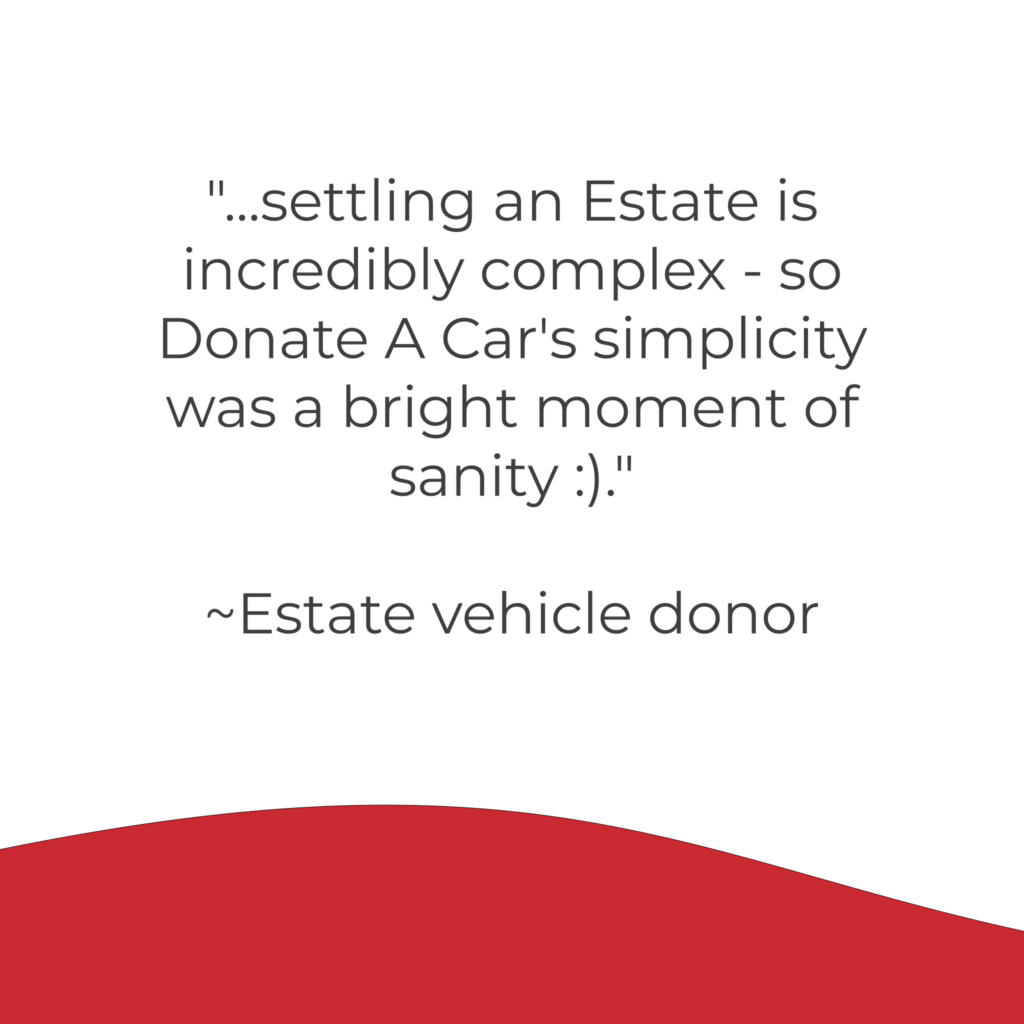 Honouring our loved ones through estate car donation is comfort, legacy, caring.
When the one we love leaves a vehicle behind
"I'm the executrix for my loved one's estate. He left us a 1998 Honda. How can I donate it?"
Estate car donation is a simple and capably tended process here at Donate a Car Canada. We facilitate hundreds of such gifts every year; we well understand that your circumstances are unique. No two estates settle out in quite the same way. If you are an executor/trix, or have power of attorney, you have a LOT on your heart and mind. Furthermore, you have likely been asked the same questions by virtually every professional you have encountered! There have probably been a few speedbumps along the way.
We are here to make donating your loved one's vehicle quick, easy, free, and loving. Equally important? We are here to help extend their legacy.
Honouring through charity of choice
The cause that your loved one cared about is ready to receive their estate car donation. You can choose any Canadian charity as the recipient for this gift! For some, this is a healing part of the complexity of grief. Knowing that the heartwork of their mum, dad, sibling, or child is being helped offers comfort.
In some cases, the owner of the car may have been ill for a time. If that is true for you, a donation can be made to a charity that is involved in research and care specific to that disease. Cancer, diabetes, and heart disease causes are top-of-heart for many donors.
On the other hand, you and your family may wish to spread cheer in a different way! If you can imagine a cause, Canada has a charity to support it! Sharing your loved one's car donation with The Donkey Sanctuary might bring a little sparkle to the process!
The 1-2-3 of estate car donation
Every vehicle donation is unique to the Giver, but there are a few things that are steady-on.
Our donation form will take you less than 10 minutes to complete. We can do it over the phone for you if you prefer to connect with a caring person. Just call in to 1-877-250-4904 and we'll take quick and thorough care! The form will allow you to name yourself as the POA/Executor/Trix, or simply as next of kin. There are times when the gift must be made in the name of the estate. Sometimes it will be simple to have the donation issued in the name of the next of kin. We can assist with this.
Once we have your information, we will promptly make arrangements for free towing. Even this will be made as simple for you as possible. Sometimes the person settling the estate does not live near where the car is located. In some provinces this is no problem at all! If you live in a province where that is more complicated, we'll have your back on that, too!
Next, our agent will pay us. Your charity of choice then receives the net proceeds! In addition, you will receive emails at each important juncture of the donation process. This includes the tax receipt, of course. All will ensure that you have a healthy paper trail for estate purposes as well.
Next steps
By now you may have gathered, we are just a click or a call away.
Your free tow typically happens within 1 – 5 business days. The agent will call and discuss options that suit you best.
Not only that, we will give you clear direction about what paperwork is required. Typically, all that is needed is the original vehicle registration. That can be left in the car.
We are here to make this aspect of caring for your loved one seamless and simple.
'Not quite ready to donate? Follow us on Facebook, Instagram, or Twitter! There you will get an overall feel for how we care for each other and our charities. This is a caring community, here to serve you.