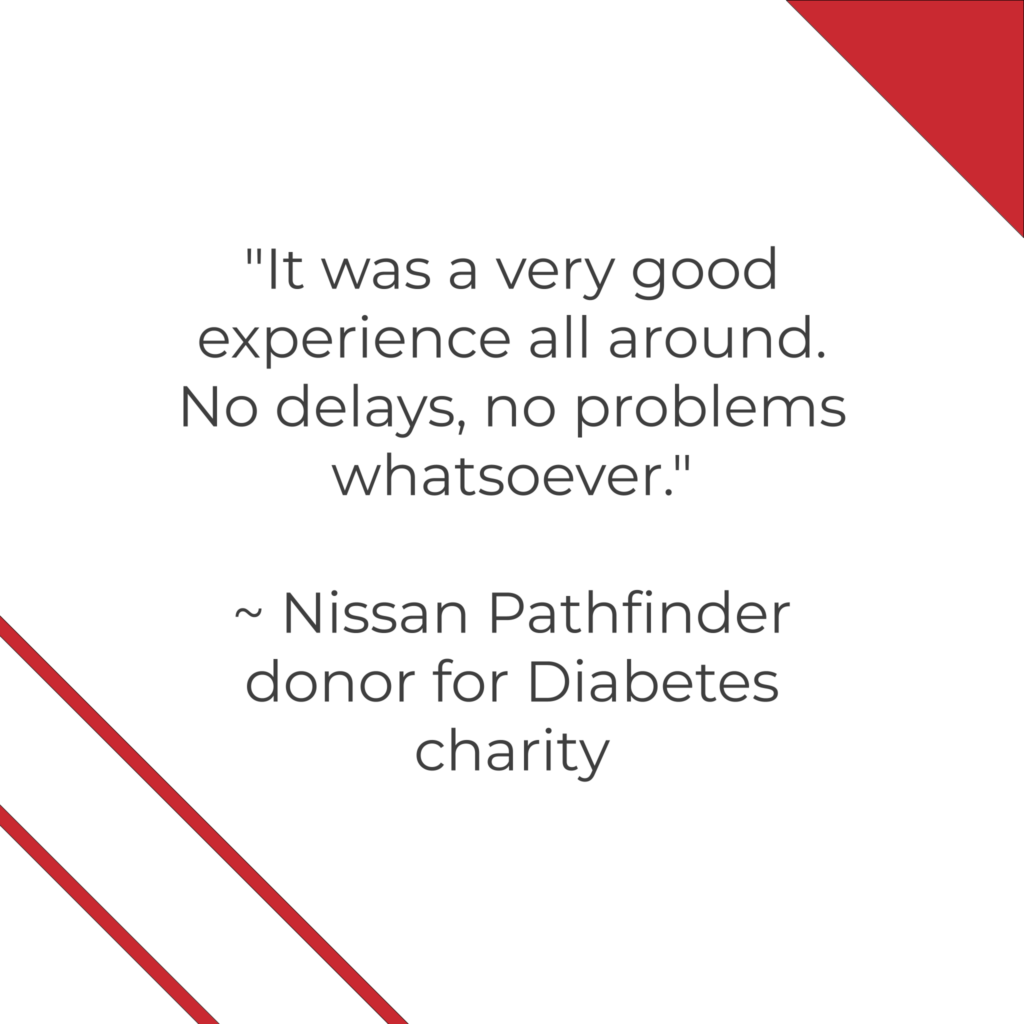 Diabetes Canada has car donors from coast-to-coast. From St. John's to Black Creek, your vehicle donation makes a difference. And we can help!
Hondas, Toyotas, & Chevys – Oh my!
A Dakota, and Impreza, and an Altima are all waiting for buyers at auction this month. Recycle-ready donations of all sorts will wrap up later in August as well. This is because Canadians across the country give where their hearts are.
Happily, your choice is at the heart of our program. Every donor has carefully chosen the car they drive. Moreover, each donor has their own passionate cause. For many of our givers, Diabetes Canada is a cause that lands close to home.
Why Diabetes Canada
The DC website helps us understand just what this sickness is:
"Diabetes is a disease in which your body either can't make insulin or can't properly use the insulin it makes. Insulin is a hormone made by your pancreas.
Insulin's job is to regulate the amount of sugar in the blood. Blood sugar must be carefully regulated to ensure that the body works properly. Too much blood sugar can cause damage to organs, blood vessels, and nerves. Your body also needs insulin in order to use sugar for energy.
Eleven million Canadians are living with some type of this sickness. Chances are, this affects you or someone you know.
Types of diabetes
Type 2 diabetes is the most common diagnosis, followed by type 1 diabetes. Gestational diabetes occurs during pregnancy, and is usually temporary. In addition, prediabetes is another diagnosis that indicates an higher risk of developing diabetes.
Type 1
Type 1 is an autoimmune disease. It is also known as insulin-dependent diabetes. People with type 1 aren't able to produce their own insulin (and can't regulate their blood sugar). This is because their body is attacking the pancreas. Roughly 10 per cent of people living with diabetes have type 1.
Type 1 diabetes generally develops in childhood or adolescence, but can also develop in adulthood. People with type 1 need to inject insulin or use an insulin pump. This ensures their bodies have the right amount of insulin.
Type 2
People with type 2 diabetes can't properly use the insulin made by their bodies. Or their bodies aren't able to produce enough insulin. Roughly 90 per cent of people living with diabetes have type 2.
Type 2 diabetes is most commonly developed in adulthood, although it can also occur in childhood. Type 2 can sometimes be managed with healthy eating and regular exercise alone. It may also require medications or insulin therapy."
Finding support and helping others
The Diabetes Canada website is a hub for Canadians living with this illness. Furthermore, it is a solid support for loved ones. They offer easy-to-understand information about living and eating well. For example, you'll find interactive tools, educational webinars, recipes, events, and more.
Are you in a position to help others? You may have a little extra time on your hands. Moreover, cleaning out the closet might be on the to-do list. The charity has many ways you can help the cause. These include volunteering, gifts-in-kind (like clothing), and events. Maybe you have a car to donate? We make that quick and easy!