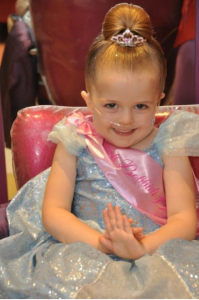 When you donate a vehicle through the Donate a Car Canada program, your impact is as unique as the charity you choose! The Children's Wish Foundation is one of our receiving Canadian charities, and Claire is one kiddo that has been directly impacted by donors like you!
Claire's Wish Story (Reprinted with permission) is one example of how your car (recycle-ready, or a good candidate for auction) can have a lasting impact on the cause you care about.
It was Christmas day over three years ago, that Claire'sbrother Noah needed to see a doctor for flu-like symptoms that he had been experiencing. Thinking that Claire was likely to catch whatever he had, parents, Amber and Davor, decidedto have Claire seen by the doctor as well.
Little did they realize at the time that Noah would be just fine, and that they would spend the next week and a half in the hospital with Claire, who by all accounts appeared healthy but had low oxygen saturation levels. Expecting her to be gasping for air, or showing symptoms that would explain the low oxygen levels, the doctors were baffled. And so began the search for answers. Through rigorous testing, which included everything
from blood samples, x-rays, CT scans, and ultimately a lung biopsy surgery in May 2011, doctors finally had a conclusive answer as to what was affecting Claire's little lungs.
Affectionately known as "Clairebear", four year old Claire was diagnosed with neuroendocrine cell hyperplasia of infancy (NEHI), a very rare childhood interstitial lung disease of which there are roughly 500 cases identified world-wide. In very basic terms, the disease inhibits the lung's ability to undergo gas exchange, causing hypoxemia (low oxygen levels in the blood), which in turn causes faster breathing and respiratory distress. Due to the lack of oxygen, children with NEHI generally experience developmental delays. Sadly, there are no known medicines or treatments to cure the disease – only indefinite oxygen therapy to combat the effects of hypoxemia.
Claire has been on 24/7 oxygen since that fateful Christmas day. Luckily, she is showing no cognitive or physical developmental delays. Like most little girls she loves her dollies, pretty outfits, and chasing her brother Noah around, except she's got an oxygen tube following her wherever she goes.
Your vehicle donation dollars add up for Canadian charities like the Children's Wish Foundation!
When it came time to choose her wish, Disney World was the perfect fit. Claire spent an entire week meeting all her favorite Disney Princesses and even received a princess makeover at the Bibbidi Bobbidi Boutique! Claire's mom Amber said that week brought an immeasurable amount of joy to Claire that will be treasured for a lifetime.
Thank you for the role you play in supporting families like Claire's when you give a car to the Canadian charities of your choosing!