Layered compassion. We see it everyday here! Donors care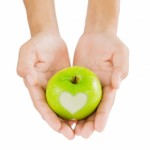 about their environment, their communities, their families, their world. It is an everyday privilege to encounter donors that, in their efforts to support one cause, are equally excited about reaching toward another, and Heather's compassionate involvement in reaching out to an HIV support community is closely matched by her eco sensitivity.
Heather's charity of choice was Bruce House. They're a community-based organization providing housing, compassionate care and support for people living with HIV and AIDS in Ottawa. They believe that everyone has the right to live and die with dignity.
"I chose Bruce House because it is an organization close to my heart – for a few reasons.  I lost a family member to HIV/AIDS when I was in high school and I also first heard about Bruce House when I was in high school.  Our school chose Bruce House to be the focus of that year's fundraising initiative.  It was especially meaningful, given my recent loss.  A short while later I start volunteering for Bruce House, in the hospice itself and also at fundraisers, information tables and during the Pride March.  

Since then I have met and lost more people to HIV/AIDS and the staff and volunteers at Bruce House are amazing, so truthfully there are many special someone's in mind when it comes to Bruce House.  When I saw their name in the list of affiliated charities with Donate a Car I couldn't have been more delighted; the organization is incredibly deserving."
Heather donated her '07 Smart Car from Gatineau, and our auction house in Ottawa was happy to step up and do the work of re-selling the car.
"We bought the SmartCar in 2007, it was our first car and there are so many special memories attached to it– I was very sad to see it leave us.  Purchasing a car for us was a bit of an angst-filled experience, my partner and I are concerned about our eco footprint and have never wanted to be over-reliant on a vehicle.  So the SmartCar struck a nice balance for us and we have continued not to be over-reliant on cars.  

We were able to purchase a car that bucked conventions in size, structure and fuel usage.  We had the car for 8 years and would have kept it if we lived in a warmer climate (the cold is hard on diesel engines).  The idea of selling the car was unappealing, but being able to donate it so that someone else can fix it and continue to use it – and the bonus that the funds go to an organization we care deeply about – meant a lot to both of us."
$1593.25 was the happy result from the sale of Heather's Earth-friendly SmartCar! We're inspired by Heather's lifestyle of mindfulness toward the planet and her practical goodness in walking alongside vulnerable friends.
Layered compassion. Reaching toward the felt needs of others, and awareness of our impact on our world. We can help with both!
To learn more about the work of Bruce House and other ways that you can support their work, visit them here.
To donate your own vehicle through our program, just fill in our online donation form, or give us a call at 1.877.250.490.
Top image courtesy of rakratchada torsap at FreeDigitalPhotos.net