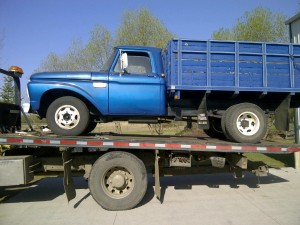 The words, "If it's got a motor we'll take it!" are music to our ears here! When Ms. Wesley submitted her family's old farm truck as a donation for Rosebud Theatre, we were hopeful our agents would find a way to make her gift a go.

They did. In dramatic fashion! Her donated 1966 Mercury 350 will stir closely held memories for our rural readers, and it drew a $969.75 donation for Rosebud Theatre (Rosebud Centre of the Arts)!
Rita writes,
"This truck was bought back in 1993-1994, when we moved out of Edmonton to the acreage by Beaumont. Initially used to haul calves, it was then used to move dirt when landscaping after building our house.

My late husband had refurbished the vehicle at one point, with re-sale in mind after we no longer needed it."
Sadly, Mr. Wesley passed before the family had opportunity to sell their faithful old truck.
"After his passing, the truck stayed in the Quonset and was used only (very) occasionally.  I had tried to sell it on Kijiji but (obviously) with no luck.

Almost to the point of being ' the way' I had been trying, for the past couple of years, to find a solution for disposing of the vehicle, but always procrastinating, I guess, although the whole project seemed to be quite daunting for me.  By this time, seals were seized up, and we couldn't get the truck started."
Enter Stage Left: Donate a Car Canada!
"When attending a performance there earlier this year, I chanced on an

advertisement in the program, regarding Donate A Car Canada.  That seemed to be the right answer!  I could get the vehicle towed away with no cost to me and donate the proceeds to a very worth-while cause."
As a Rosebud Theatre visitor myself (my family has enjoyed many home-cooked buffets and engaging productions there through the years), I echo Rita's heartfelt, "I thoroughly believe in what Rosebud does, and certainly enjoy attending performances there 3 or 4 times a year."
You can support the creative arts in your own dramatic way! Connect with any curiosities or concerns and we'll set our production team to work getting your show underway.