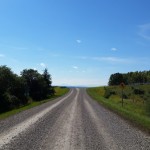 The family truck was like a member of the family, and a trip to the local scrap yard just wasn't an option when it came time to having the truck taken off the road. Yacht rails on the 'Ram were our first clue that the donated '97 Dodge had stories to tell!
Pealing roof-top paint (the result of bathing in the Florida sun) and a hefty number on the odometer — both reminders that she'd travelled long miles, crossing borders and safely carrying her cargo as the donating family made many happy memories.
If the thought of your trusty car ending up at the scrapper down the street isn't quite the finish you had in mind…
When our cars are ready for their last trek, sometimes a drop-off at the city metal parts yard just won't do. We want to see our trusty vehicle continue to serve someone, somehow. It may have become too costly or too cumbersome a thing for our own circumstance, but we can't bear to see it just get carted off without a little added respect.
When it came time to decide how to make saying goodbye just a little easier, our donor family submitted their adventuring '97 truck on behalf of the Canadian Cancer Society. Free towing and speedy service were needed as time was a factor. Both were managed by our supporting Island agent, and the truck was taken into the care of a recycler who loves to tinker and repair.
Sometimes a quick trip to the junkyard is all we're looking for, but sometimes the thought of the scrapper being the next stop just doesn't seem a fitting end for our faithful old vehicle. With hundreds of charities to choose from, you can feel sure of the ongoing and helpful impact of your donation-ready car or truck.