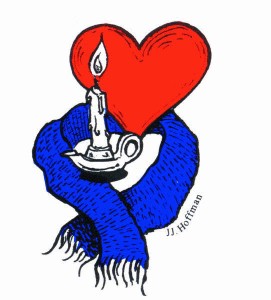 Project Warmth has their finger on the pulse of out-in-the-cold Calgarians. As we ready ourselves for some snowy roads and predictably unpredictable Canadian winter weather, it is hard to imagine what facing those chilly blasts and soaking snow falls would be like without a proper coat, or a hat to keep them at bay!
Project Warmth Society is a registered charitable organization that provides warm clothing, blankets, sleeping bags, outer wear and related items to the underprivileged and homeless. As well, Project Warmth is involved with school children, under its umbrella organizations Kids' Koats, Pupils' Parkas and Student Scarves. 
Project Warmth Comforts by Caring for Practical Need
In the past year alone, Project Warmth has distributed over 60,000 articles of clothing, footwear, outerwear, and more to families in need — often shopping to the specific needs of the most desperate. Their annual efforts include hosting Alberta Theatre Project's, "A Christmas Carole" where they engage theatre goers with a silent auction that includes everything from edible treats to jewelry and more!
As you ready yourself and your family for winter's grip this year, consider working alongside Project Warmth, your local shelters, and other comfort-bringing charities across Canada in an effort to keep everybody warm and dry!