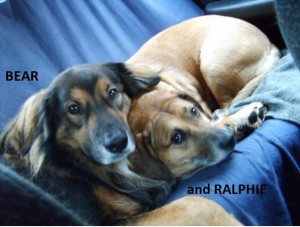 Animals are people too, don't ya know?!
Yes I'm being a bit cheeky, but for many of us our animals are our family. One thing that is very apparent for us at Donate A Car Canada, is that people love their pets, and it's always sad when we discover a pet has been mistreated, lost, or left for dead. They are at our mercy, and when we've chosen to care for them it is unthinkable that we'd shirk responsibility to the point of neglect or abuse.
Our charities listing includes many organizations across the Nation that provide care and nurturing for animals in distress. We encourage you to look through the choices to see if there are any that peak your interest, as you consider donating your vehicle to a great cause!
One of our donors recently submitted her Hyundai in memory of her beloved pups, Bear and Ralphie. What struck us about her donation and her story, is the idea that so many treasured memories are created while we are driving our vehicles from here to there. We sometimes don't value those moments at the time, but we often wake up to it when we can no longer create those memories.
"That car never really belonged to me – it belonged to my dogs. Thank you for your services and helping me make a donation to the Nova Scotia SPCA – it made saying goodbye to it just a little easier. I left a note in the back seat (the above photo) and I'm attaching a copy for you." Lisa from Nova Scotia
During the summer season the news reports so many cases of pets left in vehicles, so we would also encourage our readers to be responsible when taking your pets in the car! Our wonderful companions are thrilled to go for the ride, so we can do our part to ensure they are cool, well hydrated, and safe while out and about adventuring at our sides.
And, if you have a similar experience to Lisa and are looking for a meaningful way to honor your beloved furry family member, consider giving your vehicle on behalf of our one of our hard-working animal charities!