Motorcycle madness was not on our minds when my husband and I opted to
take his mom on a road trip one August. When we head out on a trek, we don't make a plan. We pick a direction, point the nose of our car that direction, and just see where the road takes us. Turning the corner off a dusty Wyoming road one hot summer we were surprised to find ourselves surrounded by hundreds of motorbikes and their devoted riders!
Motorcycle rally memories
If you ride, you know all about the Sturgiss Wyoming Motorcycle Rally. Two middle-aged Canadians and their spry senior Mother in Law coming across the literally hundreds of riders and their beloved 'bikes must have been an entertaining sight to see. We were gob-smacked!
Fortunately for us, we rolled into town (in our very conservative compact car) two nights prior to official rally opening. This meant we were lucky enough to find one of the handful of available hotel rooms in nearby Rapid City, Wyoming. We spent the next few days touring Mount Rushmore, the beautiful Black Hills National Forest, and area towns in the company of dozens of riders. The growl of their engines woke us in the morning and lulled us to sleep at night. Their stories wafted all around as we sought out the best buffets and tourist spots in town.
A poet's perspective
Karen Croft beautifully captures the spirit of what we witnessed that August in her poem, motorcycle ride:
i am bare-headed
on his motorcycle
every mile is in his hands
i am free,
sight-seeing,
adventurous
i am with the wind
with the road
on a trip
to nowhere
it's the experience
that i love
Motorcycle donor makes strong contribution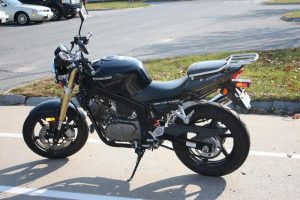 One of your fellow riders recently donated their Hyosung GT250 Comet on behalf of the Mental Health Foundation for a generous donation! We'll be sending the charity over $1000.00 this month end.
Our own short Canadian motorcycle season is here! If you ride, spring and summer take a long while to come 'round, and they slip by quickly.
For some safety reminders, check out Rider Training for some robust guidance and instruction.
If you have a motorcycle you're thinking of donating, give us a call, or pop us an email. Typically, donated 'bikes need to be in running condition (most recyclers will not accept them as there is not enough metal on them to ensure a donation for your charity of choice) so that we can sell them via our auction or re-sale agents. If we can assist with more information, click below and fill in our online form, or give us a call at 1-877-250-4904, and we'll be happy to help!


Hyosung GT250 Comet photo courtesy of mallard @ http://korider.com