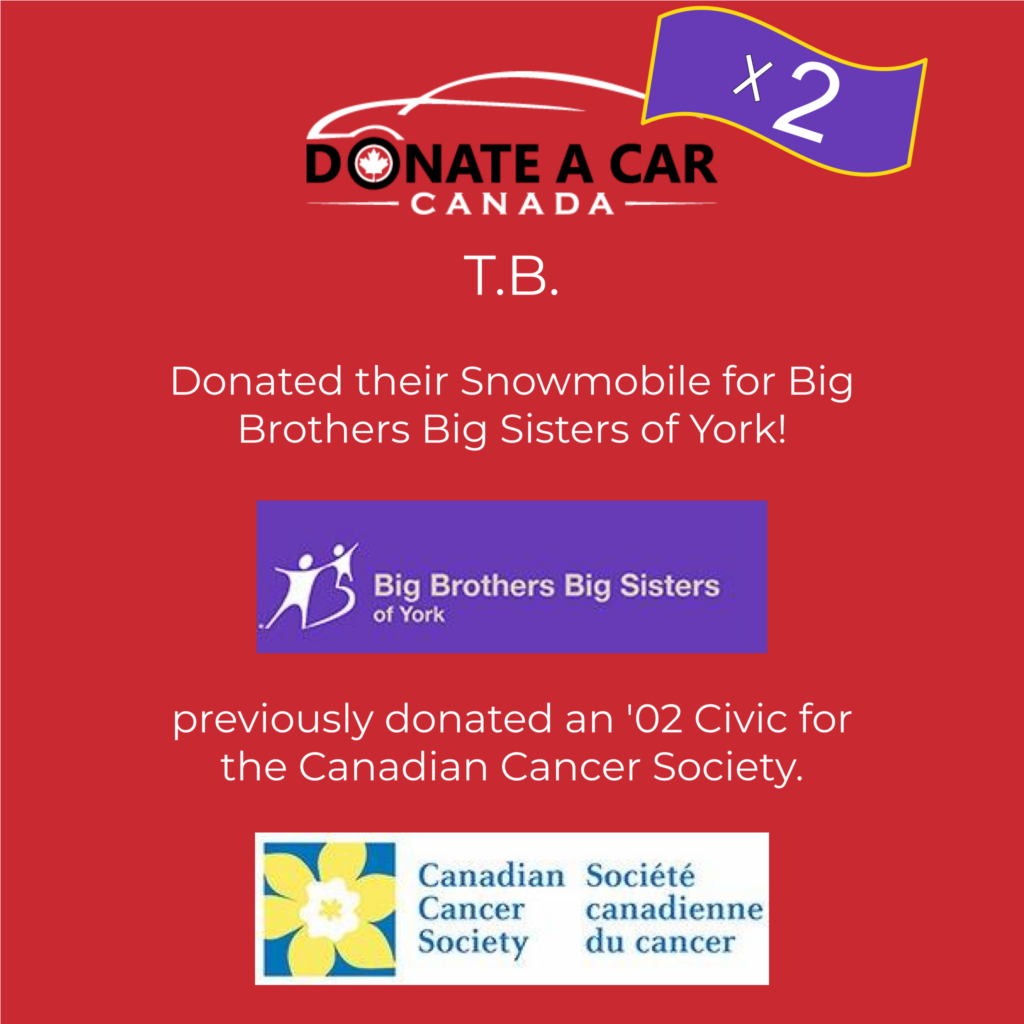 Creative giving is one way to share Christmas joy! From snowmobiles to Fords, our donors make it count!
Creative giving – limitless possibilities
When it comes to creative giving, you get to decide: What kind of giving suits you best? Are you an artist? A cook? Perhaps you have zero time, but a sturdy bank account? Money may be in short supply, but perhaps you have toys or household goods that you no longer need?
The cause you love will benefit from whatever generosity you have to share.
Our charities page offers links to over 1,000 charities in Canada. Many of these organizations have an, "Other Ways to Give" option on their own "Donate" pages. Helping your charity is about so much more than dollars and cents these days!
Vehicle donors make a difference
Each of Donate a Car Canada's receiving charities is served personally. We craft a vehicle donation program specific to their unique work. That's our version of "creative giving" and it includes everything from exceptional donor support to color matching!
Furthermore, we're here to serve car, truck, van, and SUV donors by recycling or re-selling their donated vehicles. Each donor shares in their own creative giving way!
As we've been around for over a decade, we're now seeing many donors return with second donations…or third…or more!
Just this autumn we've seen some multi-vehicle donations really add up for their chosen charities.
Some donors and charities to celebrate
We serve six Big Brothers and Big Sisters chapters. This Fall, T.B. donated a snowmobile on behalf of Big Brothers & Big Sisters, York region. Yes, you read that right! A snowmobile for charity! Thanks to agents that happily participate in creative giving, we have often processed motorized wheelchairs, scooters, and snowmobiles for dozens of causes.
But wait! There's more: this wasn't the first time T.B. had gifted four wheels through our program. The Canadian Cancer Society was their charity pick the first time they donated through our program. That donation? A Honda Civic. One donor, two vehicles, and two charities helped.
There are double donors…and then there are double-double donors!
Creative giving can't always come in the shape of a car, or truck. We really get that. But for one of our November donors, clearing the yard of multiple vehicles was just the thing!
The beauty of donating a vehicle is that you tend your Self, your property, and your environment while also supporting your cause. In the case of this generous donor? K.M. gifted four (4!) vehicles. At one time!
The Canadian Harvard Aircraft Association is set to receive their fourth and final gift from the donor this month-end. To date, they've been sent three of four donations.
What did this multi-vehicle donor gift, and what's in it for the CHAA? A 1998 Ford Focus earned them $450.00, as did his 2002 Ford Edge. The 1999 VW Golf and 1995 Pontiac Grand Prix offered $350.00 each. That's $1,600.00 for the charity and one tidy driveway for K.M!
Your giving, your way
Understandably, we are not all in a position to donate a vehicle. Donating more than one vehicle may be right out of the question! If your charity's vehicle donation program fits for you, we're here to help!
Human kindness comes in so many shapes and sizes and smells (think cookies and hot soup!). If slinging snow from the neighbor's sidewalk is an easy-do for you? Thank you! That act is Goodness. Write a note. Send some love on social media. Make that overdue phone call. It all matters!