Autumn driving means unpredictable conditions and breathtaking beauty in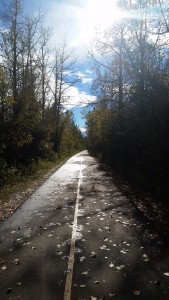 Canada. Looking for a few tips on how to stay safe on the roads this Fall? 
The AA Website has an article with some great pointers on driving at this time of year.
Autumn is particularly bad for dazzle from low sun. Improve vision by making sure that the windscreen is clean – inside and out. Even non-smokers find a hazy film builds up on the inside surface of the windscreen over time. Scratches, abrasions and chips on the outside can intensify the sun's dazzle too.
Their UK site addresses everything from windshield wiper and tire care to this very helpful checklist on mindful driving at sunset:
How to reduce the risk and possible consequence of being dazzled
Keep your windscreen clean inside and out
Renew wiper blades if worn
Keep a pair of sunglasses in the car, but make use of the sun visor too
Slow down immediately if dazzled
Bear in mind:

if the sun is behind you, it's in the eyes of those approaching you
if the sun is in your eyes it's probably affecting those following you too

Use headlights to help others see you
Stay safe, and enjoy the beauty of the season!