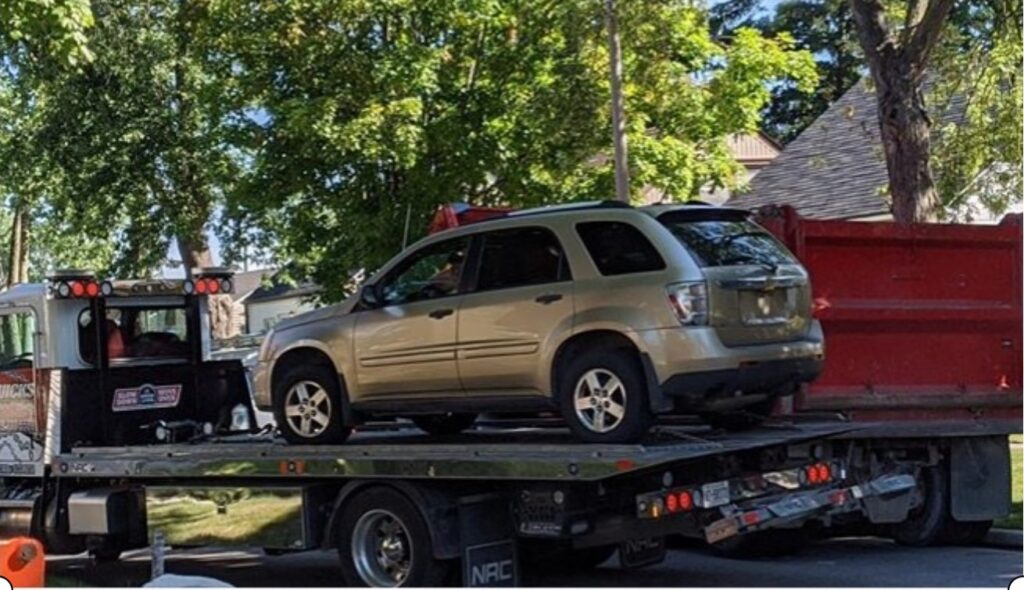 Happy Canadian Pulmonary Fibrosis Foundation Donor
"Good riddance to bad rubbish" was this donor's heartfelt post. His donation on behalf of the CPFF was processed earlier this month. A recycle-ready vehicle, the donor received his free tow in quicktime by Quick's Towing. This faithful agent has been serving Donate a Car Canada in Ontario for years. So many donors and their charities of choice served by one company!
What happens to my junk car?
Not all of us feel quite so strongly about our recycle-ready vehicles as our Equinox donor! We may not be so ready to call Old Faithful, "junk." Whatever the readiness, our process in caring for your donation will hold steady.
You will always receive a free tow from one of our trusted supporting agents. These stalwarts will either recycle or re-sell your vehicle. This is dependent on many factors specific to your location, and the condition of the auto. Donation dollar outcomes vary from one province to the next. This is as should be: metal prices fluctuate constantly. Your donation outcome will reflect that variance.
And your charity? Monies in hand within weeks of us receiving the pay out from our agent. Your tax receipt is then issued to you in the subsequent weeks.
But what if it's not junk?
"Take care of my junk car!" may not be your cry. Perhaps your donation-ready vehicle is in sale-able condition. We're the company for you! Simply submit the car or truck particulars and we'll promptly assess its condition. If we, based on what we know about the industry and our database of sale outcomes, determine that it can be re-sold, or auctioned off, we'll do so! This can result in a much stronger donation outcome on driveable, sturdy, good lookin' units! 'Good for your charity, and great for your tax claims!
Hit the donate button, or give us a call today!
You are also invited to contact and follow us on Facebook, Instagram, or Twitter! From there, you'll be able to keep up to date on our program as well as see posts that showcase our amazing donors and charities across the country!