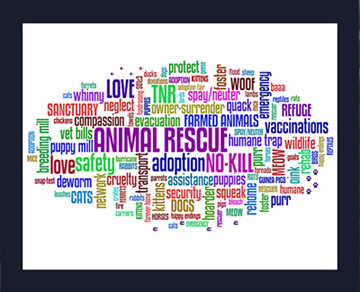 On January 13, 2015, a dramatic rescue of over 200 neglected dogs took place in Milk River Alberta. Alberta Animal Rescue Crew Society has been at the forefront of the care and re-homing of those hurting critters from day one. One of our generous vehicle donors joined the massive efforts in a selfless and under-the-radar way.
Our anonymous donor gifted his SUV on the day of the Milk River rescue. Within two days the Toyota was on site at Regal Auctions and being readied for sale day. By the end of the month, payment had made it's way to us here at Donate a Car, and we were disbursing his donation to AARCS. How much was his gift? $6152.25!
By Alberta Animal Rescue Crew standards, that makes our generous donor an "Angel for Animals"! All of us here at Donate a Car Canada raise a cheer: for our donor, for AARCS, and for the philanthropic heart that shines through every part of this ongoing effort to bring healing and help!
You may have giving to your area animal rescue or SPCA on your mind, too? We are joyful partners with animal rescue organizations across Canada, and if your area SPCA is not yet on our list, we're excited to invite them to join! Simply provide us their name when you fill in your online car donation submission form and we will promptly research their contact information and reach out to invite them.