The How-To of estate vehicle donation: settling an estate is made easier by having us step in and take care of a few things for you!
"Everything was so wonderfully simple. Emails were returned promptly and the mechanic was great. It was one of the easiest transactions that I had to do as far as the passing of my Father and coping with my Daughters illness(coping with my loved one's estate). We all live in different cities, yet no one had to be on sight and for that I will be forever grateful. Thank you." 

~ Honda donor for humane society
Estate vehicle donation: Why leave a legacy in this way?
Managing the estate vehicle donation process is part of our every day here at Donate a Car Canada. If you are looking for our quick, simple, how-to, just scroll down to, "Common questions," or to the bottom of this post. You'll see, "The 1-2-3 of estate vehicle donation." We can assist in managing your own estate, or that of a dear one.
If you are still researching your options for this kind of donation, we appreciate that process.
Estate vehicle donation is a personal and intentional decision. Donors come to it in so many different circumstances. We have experience in supporting estates where there has been a long illness, and those where death is untimely. A few years ago a donor donated her vehicle because she was terminally ill and had chosen to go the route of medically assisted suicide so that she wouldn't be suffering through the lengthy health battles.
One of our staff recalls,
She was such a lovely woman and, because we knew the date that she'd chosen for her passing, we organized the paperwork being signed and set up the tow schedule for her vehicle around that so that it was all taken care of before she passed. This way her loved ones didn't have to worry about any of it.

We can absolutely help to organize the donation ahead of time so that family members and loved ones are prepared to activate the donation once the time comes.
Legacy giving to match your unique circumstance
Much of our estate vehicle donation process is built around those filling the roll of executor/trix, or Power of Attorney. In these circumstances, the one tasked with settling the estate often chooses a charity that reflects the one who has died.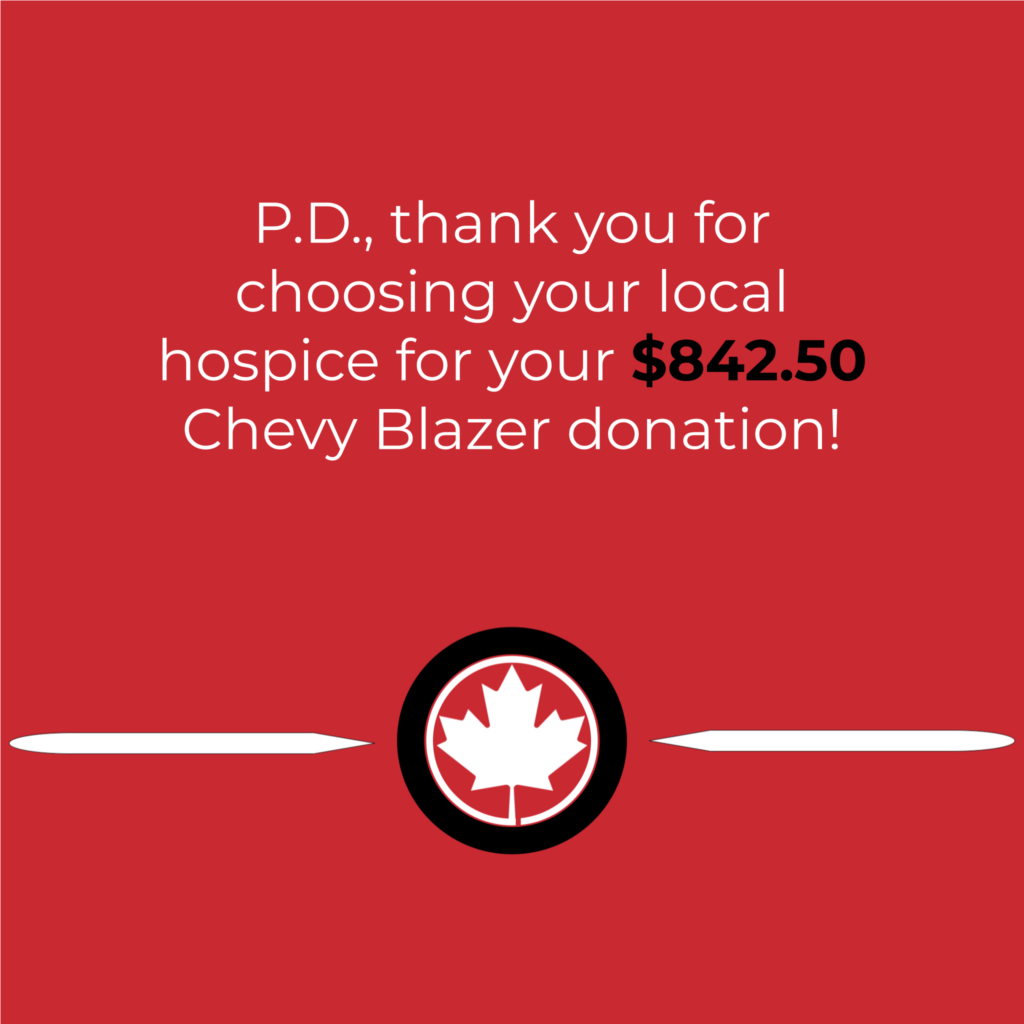 At the time of this writing we are processing donations for thirteen families. The charities chosen reflect the lifelong loves of the vehicle owners. Nature, wildlife, and local animal shelters will be beneficiaries of these gifts! Other families are gifting charities that have served them in the final days and months of their loved one's time. Local hospice, Cancer, Diabetes, heart health, and mental health organizations will be helped by these estates.
When the one we love leaves a vehicle behind
"I'm the executrix for my loved one's estate. He left us a 1998 Honda. How can I donate it?"
Estate vehicle donation is a simple and capably tended process here. We facilitate hundreds of such gifts every year; we well understand that your circumstances are unique. No two estates settle out in quite the same way. If you are an executor/trix, or have power of attorney, you have a LOT on your heart and mind. Furthermore, you have likely been asked the same questions by virtually every professional you have encountered! There have probably been a few speedbumps along the way.
We are here to make donating your loved one's vehicle quick, easy, free, and loving. Equally important? We are here to help extend their legacy.
I'm planning my own estate car donation
You may be coming to us in the process of your own estate planning. We are here to come alongside you with care, efficiency, and even a little good humour when the moment is right.
Common questions about donating an estate car
For quick answers to your estate vehicle donation questions, we welcome your call at 1-877-250-4904. This is a live phone line, Monday – Friday, 8:00am – 5:00pm MT.
Here are a few most commonly asked questions about estate donation:
1) How do we fill in your form to show that it's an estate vehicle?
The online donation form has a menu that will allow you to select the estate vehicle donation option. There are also empty spaces on the form where you can offer as much, or as little, detail as you wish. Some donors even make special notes to the charity on the form! For example, they might say something like, "I would like to make this donation in honour of my dad. He cared so much about the arts, and I know that this gift to Rosebud Theatre would mean a lot to him."
2) What paperwork do you need for us to donate the car?
Typically, all that is required is the vehicle registration. If the vehicle is being recycled, a copy will suffice. If the car is in a condition to be re-sold, the original document will be required.
We will provide an email trail of every detail of your donation process so that you have clear documentation for the estate.
3) If we can't find keys/registration for the car, will you still take it?
Yes. In most cases our agents are able to provide service even if the keys or registration are missing. We will walk you through the process on your own unique estate vehicle donation. Please note: if the keys and registration are missing it will likely mean that the vehicle will need to be recycled. We cannot re-sell vehicles without proper documentation.
4) We live in a different city/province from the vehicle. Do we have to be there when it's picked up?
No, you do not need to be present at tow time. That said, in British Columbia and Quebec there are some extra documents required when letting go of a vehicle. These require signing by those with authority to do so. This may mean that this paperwork will need to be sent to our agents by regular mail.
5) Can I have the tax receipt issued in my own name (instead of it going to the estate)?
It depends if the estate has been closed yet or not:
If the final taxes on the estate have not been completed yet, the tax receipt must be issued in the estate's name.
If the final taxes are done, then the spouse/next of kin is considered the legal owner of the vehicle. In this case the tax receipt can be made in their name.
Your charity of choice
The cause that your loved one cared about is ready to receive their estate car donation. You can choose any Canadian charity as the recipient for this gift! For some, this is a healing part of the complexity of grief. Knowing that the heartwork of their mum, dad, sibling, or child is being helped offers comfort.
In some cases, the owner of the car may have been ill for a time. If that is true for you, a donation can be made to a charity that is involved in research and care specific to that disease. Cancer, diabetes, and heart disease causes are top-of-heart for many donors. The hospice that offered end of life care can also be named.
On the other hand, you and your family may wish to spread cheer in a different way. If you can imagine a cause, Canada has a charity to support it! Sharing your loved one's car donation with The Donkey Sanctuary might bring a little kick to the process.
The 1-2-3 of estate vehicle donation
Every vehicle donation is unique to the Giver, but there are a few things that are steady-on.
Our donation form will take you less than 10 minutes to complete. We can do it over the phone for you if you prefer to connect with a caring person. Just call in to 1-877-250-4904 and we'll take quick and thorough care! The form will allow you to name yourself as the POA/Executor/Trix, or simply as next of kin. There are times when the gift must be made in the name of the estate. Sometimes it will be simple to have the donation issued in the name of the next of kin. We can assist with this if you are unsure.
Then, sit back and wait for the tow agent to call: Your free tow typically happens within 1 – 5 business days. The agent will call and discuss options that suit you best. This will be made as simple for you as possible. If you live in a location where this is more complicated, we'll have your back on that, too!
Finally, our agent will pay us. Your charity of choice then receives the net proceeds from the re-sale or recycling of the vehicle. You receive your tax receipt by email. In addition, you will receive emails at each important juncture of the donation process. This includes the tax receipt, of course. All will ensure that you have a healthy email trail for estate purposes as well.
Next steps
By now you may have gathered, we are just a click or a call away.
We are here to make this aspect of caring for your loved one seamless and simple.
'Not quite ready to donate? Follow us on Facebook, Instagram, or Twitter! There you will get an overall feel for how we care for each other and our charities. This is a caring community, here to serve you.