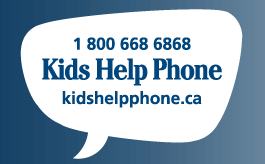 Kids Help Phone is always on call. One way to help their vision? Choose them as your Charity of Choice this month when you donate your vehicle! You can change a life. You can help a kid. Pretty simple.
Help for kids in real time
One of the unique things about Kids Help Phone is that it's not all about crisis. They can connect with a professional counsellor over homework trouble. Friendship conflict? They can call in. And, of course, those confidential concerns they may not feel comfortable discussing with their parents or teachers are welcome.
It's not always easy for a child to tell a parent what's going on inside. It doesn't mean we are bad or negligent parents. Nor does it mean there are always deep dark secrets to be concerned about. Sometimes our kids just want to discuss their thoughts or feelings with someone else.
When they need an outside source to discuss something with, where do we send them? It can sometimes be disconcerting to think they don't want to talk to us, but we all benefit from another person's perspective at times. When ideas or solutions are offered that haven't been considered yet, it's pretty cool to have that 'aha moment'.
As a single parent I am acutely aware that I cannot provide all of my childrens' mental-emotional needs. I'm grateful for the amazing people in my life who help me! I have also showed them the Kids Help Phone website too,  so they know they are never alone, that there is somewhere they can take their 'stuff' if they don't want to talk to anyone in our circle of support.
Sharing in the care
In a world that doesn't always make sense but also one where the expectations of our children are so extremely high and demanding, it's reassuring to know there are professionals like Kids Help Phone to help our children peel back the layers and listen to them. Truly listen. This story is a true reflection of the impact KHP has on not just kids, but their families as well.
It's worth giving them an extra tool in their tool belt that may impact them! Maybe even in ways that we may never know about. Of all the things in the world that grab our attention, let's give our kids opportunity to be their best selves. And if part of that includes showing them the simplicity of the KHP website, so be it.
Kids help is a click or call away
Your vehicle can be donated to any charity in Canada. There are so many children's charities to choose from! Kids health, wellbeing, education, and success are being well-tended by hundreds of Canadian groups.
To make a contribution through the donation of your vehicle, please go to the 'donate now' button below. You're underway! The form there will take just a few minutes to complete. It will help to have the VIN number of the vehicle ready before you begin.
If you prefer to call in to our help line, that's easy, too! And you will get an answer live and in person! There are no robots here! Our line is 1-877-250-4904 — Monday through Friday during business hours!
You are also invited to contact and follow us on Facebook, Instagram, or Twitter! From there, you'll be able to keep up to date on our program as well as see posts that showcase our amazing donors and charities across the country!