In the market for a new vehicle, but bored with the usual four wheels and
chrome routine? Look no further than your local Kijiji for some unique transportation options! "The Muffler Mobile" is just the beginning!
At this time last year the Globe and Mail's Jordan Chittley posted a collection of weird and wonderful vehicles to be found for sale via Kijiji.
Looking to do your part to save a love connection? Purchase a love-lorn hunter's half ton. His description is almost worth the listing price: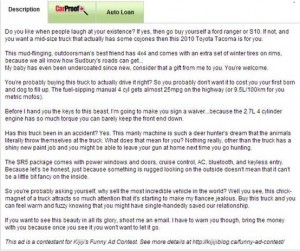 Preparing for the Zombie Apocalypse and needing just the right set of wheels? Kijiji has you covered!
Zombie Apocalypse or commute to town, Kijiji has you covered
Or maybe the one thing your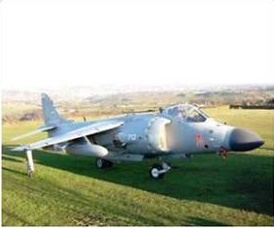 collection is really missing is a Sea Harrier FA2 Jump Jet? You know where to find it, and for a cool $1.5 Million she's all yours!
Or, if your tastes run a little nearer to average, and you're in the process of making a more conventional change, they can help you with that, too. And once you've found your replacement car, consider donating your old one to the cause you love!