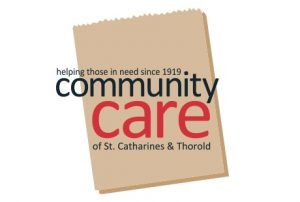 Community Care of St. Catharines & Thorold is accepting vehicle donations. Recycle-ready, or auction-primed, your vehicle will make a difference!
Did you know?
Community Care of St. Catharines & Thorold compassionately provides vital services and assistance to individuals and families. They meet basic needs and help bridge the journey to self sufficiency. Their programs range from food and shelter security to emergency services and support that lead to independence. And they've been doing this since 1919!
Community Care of St. Catharines & Thorold has so many creative and practical ways to serve. Check out their website for more information on things like
Food Security
FOOD Bank: What started as soup prepared in Leone Taylor's kitchen has grown to the distribution of 4,000 pounds of food per day to approximately 1,850 households per month. Through our St. Catharines and Thorold locations we acquire and distribute food to individuals and families facing hardships in St. Catharines and Thorold. Every client served by Community Care is required to be assessed for need according to LICO Poverty Lines (Low Income Cut Off). Once registered, clients may access food, clothing and household goods every other month or six times per year however no emergency is denied.
Savoury Samples: Samples, recipes in a bag offered to clients once each week.
Community Gardens: Thirty garden plots located at Torosian Park in St. Catharines are supported in partnership with Niagara Regional Housing and the City of St. Catharines. Clients have the ability, and support, to grow their own produce.
Housing Security
Housing Supports: Housing Help assists those who are homeless, at risk of being homeless, receiving government assistance, underemployed, physically and/or mentally challenged, those facing eviction, those leaving institutions, or those in need of community support. Housing Help assists with access to affordable housing, assistance with the completion of rental applications and documents, landlord disputes, referrals to emergency shelter, trusteeships, money management, utility assistance and referrals to other local applicable agencies or services. (Community Care works directly with ALL other Housing Organizations, working alongside agencies and landlords throughout The Region of Niagara)
Trusteeship Program: Money management and direct distribution of support funds are provided to secure housing and other related costs e.g. utilities. (Working alongside ALL agencies within The Region of Niagara except Port Colborne and Fort Erie-however we are here to assist)
Youth Trusteeship Program: Students up to 16-24 years of age are assisted with budgeting of funds and advocacy for youth with landlords, social services and schools and must have a trustee and attend school to receive assistance, enabling youth to stay in school. (Working alongside ALL agencies within The Region of Niagara)
ID Clinic: Assists with applications for new & replacement birth certificates and provides support with applications for citizen certificates or S.I.N cards, etc. (Working alongside ALL agencies within The Region of Niagara)
Utility Assistance: Distribution of funding acquired through assorted Energy Assistance Programs as well as liaising with utility providers to ensure utilities, including lights and heat, are maintained.
Additional Services
Medical/Dental/Vision Care: Requests are assessed & supported based on need & available resources.
Clothing & Household Goods: Gently used and sometimes new clothing for babies to seniors. Thorold site has a Thrift Store however goods are never sold to a client.
Baby Layette Program: New babes are welcomed with their own layette.
Snacks & Sneakers Back to School Program: Back to school snacks, sneakers, backpacks, one week of healthy snacks.
Birthday Program: Gifts are provided to children under 10 years of age.
Christmas: 1953 to present- the May Court Club helps with distribution of new toys. 1961 to present-the Community Care began the Christmas food voucher program.
Canadian Tire Jumpstart Program: Financial support to children, who would otherwise be denied the opportunity to participate in recreational activities, is provided through the Canadian Tire JumpStart Program.
Income Tax Clinics: Low income earners are provided assistance by trained income tax volunteers.
Laundry Program: Vouchers are made available to our clients giving them the ability to wash and dry their clothing a centrally located Laundromat.
Niagara Nutrition Partners Program: Niagara Nutrition Partners supports student nutrition programs at both elementary and secondary schools throughout the Niagara region. Volunteers and staff distributed snacks, breakfast or lunch to students each school day. (Throughout the entire Region of Niagara)
Ontario Electricity Support Program (OESP): With the Ontario Electricity Support Program (OESP), low-income households can receive a credit on each electricity bill. The amount of the credit will depend on how many people live in your house and your combined household income.
Get involved at Community Care of St. Catharines & Thorold
These are some of the opportunities for your involvement in this important work. Are you looking for other ways to give? The CCSCT is partnered with Donate a Car Canada  if you have a vehicle you are looking to donate. And there other ways to give as well. Your gift, big or small, is important!