Canada Helps – in just about as many ways as you can imagine! Are you looking for a charity campaign to get behind to help Syrian refugees? Is getting mattresses to area hospitals your cause? Kittens, kids, clean water and more: Canada Helps is a nonprofit that can help you donate or fund raise online for the charity you love.
Canada Helps has been facilitating online donating for almost 15 years and they know how to assist you in personalizing your giving adventure. Helping Canadians vet charities and promote fundraising campaigns has led to over $500 million in gifts.
Why give to a Canadian charity through Canada Helps?
If you're new to the idea of charitable giving, you may not know that you can claim charitable donations when you file your income taxes. Did you know that there is  "Super Credit" for first-time givers that you can claim when you donate and claim between now and 2017?
The Revenue Canada website indicates that those who have never donated to a CRA-approved charity, or who have not claimed a donation tax credit on their tax return since 2007, can claim an additional 25 per cent tax credit … on donations made from March 20, 2013 to Dec. 31, 2017.
The maximum amount of cash donations that can qualify for the first-time donor's super credit is $1,000. The limit applies to an individual donation, as well as a shared claim by a couple.
It's a one-time credit that can only be used once in a pre-2018 taxation year, but multiple donations in one year can be used to calculate the super credit.
Not only that, but did you know you can split your tax receipt claim between two household donors? "The CRA also lets a donation made by one partner to be split between both in any proportion. Partners are also able to put each other's unclaimed charitable donations from previous years toward their returns."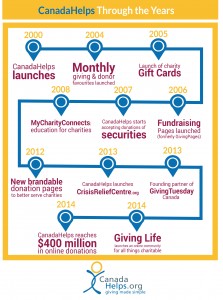 Whether you have a car to gift to your chosen charity through us here, a monetary gift to share with a specific charity, or the inspiration to start your own giving venture, Canada is a friendly place to do it.
Canada Helps can assist you in selecting the charity you wish to gift, facilitate an online donation to that cause, or help you launch a broader fundraising effort. Your gift will aid your cause, and the receipt you receive can help out on your own personal taxes.