1000 Dinners TO is inviting Toronto residents to be a part of the citywide discussion about their future. This Toronto Foundation project is happening on October 7th, 2014.
Imagine a thousand people hosting dinner for up to 10 people to discuss ideas that can make Toronto an even better place! 1000 Dinners TO will take place in homes, restaurants, and community centres across their great city. Whether a formal setting, a home-cooked meal, or a potluck dinner at a community centre, the choice is yours. Sign up to host a dinner today to ensure your community is heard.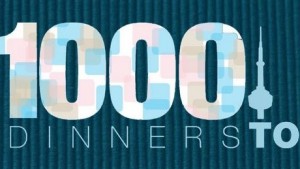 This is a chance for everyone to be heard.
Whether a seemingly small deed to improve a neighbourhood, or a large-scale transformation that can affect the city as a whole, we want to hear ideas of what can be done to improve the city of Toronto.
Also, consider offering your support to the Toronto Foundation by donating a vehicle to raise a charitable donation for them. You can donate on-line today at www.donatecar.ca, or by calling 1-877-250-4904.
1195 Total Views 2 Views Today