We have one or two all-things-nature geeks on our staff here, and the news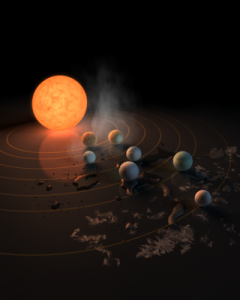 from NASA this week has curiosity piqued. These are exciting times for space exploration and wonderment alike!
Have you missed the news from NASA? Check out their February 22 release for some of the latest and most fascinating.
"The big news, is that around a very nearby, cold, small star, we found seven rocky, Earth-sized planets, all of which could have liquid water."
Looking for more detail about this discovery — just 40 light years from Earth?
Here's more directly from NASA
For a more detailed explanation on what's in the telescope's site, and with perspectives from a panel of experts, here is a 40 minute video with more great information.

51164 Total Views 159 Views Today